PTC ThingWorx Studio gains AR functionality
PTC ThingWorx Studio gains AR functionality
PTC's ThingWorx Studio will be updated with release 7 of the company's augmented reality technology platform, Vuforia 7.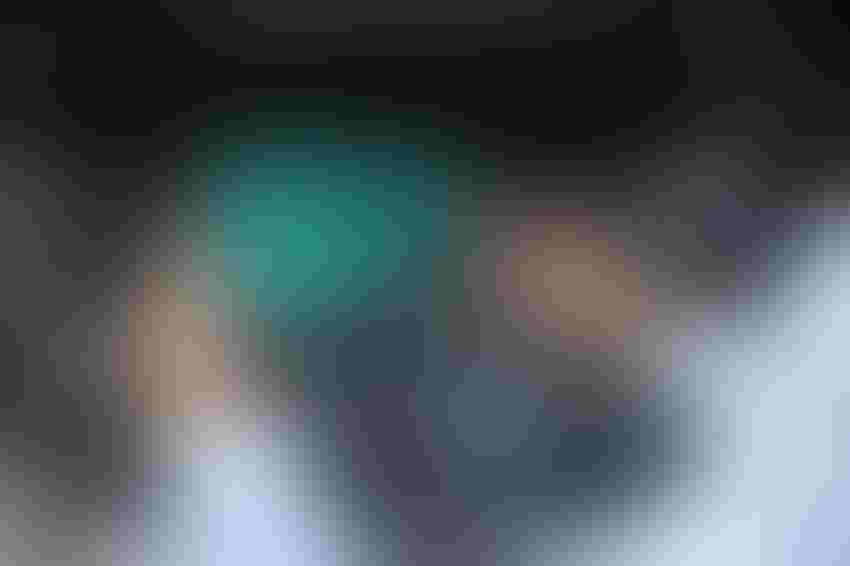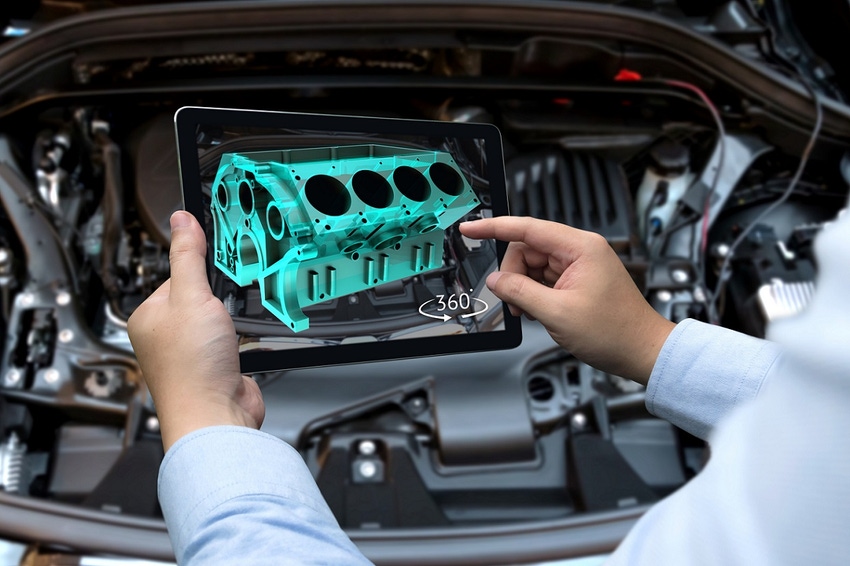 Augmented reality technology and engineering marketing concept. Hand holding tablet with AR service application to rotate 3d rendering of energy block 360 degrees with blur car engine room background
Thinkstock
IoT is an outstanding source of information for augmented reality (AR) experiences, according to the executive vice president of the PTC ThingWorx platform, and there is "game changing" opportunity in bringing IoT data together with AR to enable enterprise use cases of the technology.
Consider, for instance, augmenting work instructions with real-time IoT data from a machine. Data from sensors could be exposed directly in instructions leveraging augmented reality to warn a technician about, say, a filter that is too hot to touch. In turn, IoT and AR could boost safety by overlaying digital barriers on a physical space and instead of physically taping off an area in a plant that is unsafe, IoT data could be combined with AR to overlay virtual tape visualized through AR hardware or on a device in real time.
There are many such applications in manufacturing, sales and marketing, and service and training, according to PTC's Mike Campbell, who added that AR use cases leveraging IoT data are starting to move from proof of concept to internal pilots.
"With what shall I augment reality? Where do I get that [information] from? IoT is an outstanding source of that information," Campbell said. "I think AR is amazing and being able to overlay relevant, timely, accurate, up-to-date product-specific information using the power of IoT is a total game changer."
In that light, PTC's augmented reality technology platform – Vuforia – will soon include new functionality that has relevance to IoT use cases, as PTC ThingWorx Studio will be updated with the Vuforia 7 release. ThingWorx Studio combines the ThingWorx IoT and Vuforia platforms so to speak, providing support for subject matter experts to build AR experiences without writing code. They can use a drag-and-drop environment and pull in existing 3-D CAD and IoT data.
Among the enhancements in Vuforia 7 is Vuforia Ground Plane, a new capability for placing content on the ground, floor or tabletop, enabling users to author AR experiences across a broader range of industrial environments. The new release will also deliver "Model Targets," providing shape-based recognition capabilities, where shape can be defined by a 3-D model such as CAD data. This will better enable instructional types of content on things like industrial equipment, which gets dirty. With Model Targets, content can be attached to objects such as automobiles, appliances, and industrial equipment and machinery, enabling a new class of AR content that can replace traditional user manuals and technical service instructions, according to Jay Wright, president of Vuforia at PTC.
"It's a big deal for industrial equipment," Wright said on the webcast announcing the news.
[Industrial IoT World highlights the intersection of IoT and industry, showcasing how IoT transforms business across manufacturing, supply chain and operations. Get your tickets and free passes now.]
In turn, ThingWorx View, which enables users to view experiences authored in PTC ThingWorx Studio, will include Vuforia Chalk capabilities. This functionality allows people in different locations to share a live view of the same environment and draw on it, with the markings appearing anchored to objects and surfaces in the environment, as if drawn on the objects and surfaces themselves.
AR capabilities are part of what make PTC's ThingWorx IoT platform different from (and complementary to) platforms like Microsoft Azure IoT, GE Predix or AWS IoT, according to Campbell. Enterprises shouldn't think of ThingWorx as a typical IoT platform, he said, but more of an industrial innovation platform for contextualizing the data from different sources, structuring the data in a way it makes sense and creating the digital twin.
Right now, customers are consuming AR experiences through mobile devices. With some 4,400 customers evaluating the ThingWorx Studio offering, 80% say tablets and phones are fine, putting the tablets on, say, swinging arms in workspaces, Campbell said.
But ultimately, customers want these experiences to be truly hands-free, according to Campbell, and in that light, PTC was recently at the Microsoft Ignite conference demoing experiences for its HoloLens.
"We're in the early days for AR hardware, but we think the HoloLens is pretty great," Campbell said.
Sign Up for the Newsletter
The latest IoT news, insights & real-life use cases...delivered to your inbox
You May Also Like
---