How to Deploy Industrial Internet: A Brief Guide
How to Deploy Industrial Internet: A Brief Guide
Isolated Industrial Internet projects have the potential to transform an entire organization. Here are five phases in that transformation.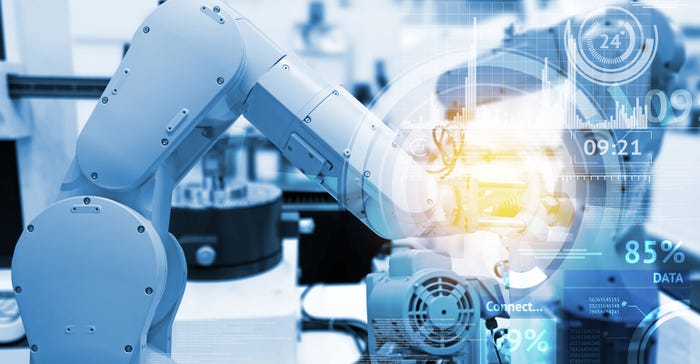 When it comes to hot new industrial technologies, the Industrial Internet is in pole position, according to a recent study from Hitachi Vantara titled "The Internet of Things: From Theory to Reality" surveying 502 executives leading IoT initiatives. Nine out of 10 respondents reported that the technology is vital for the future of their business. And yet, paradoxically, 32 percent of them divulged that one of the most significant challenges in deploying the technology is coming up with a compelling return on investment.
Acknowledging that the Industrial Internet is a technology that is difficult to fathom given the quickly moving nature of its core technology and the vastness of the ecosystem, it helps to have a solid plan when launching an IoT project in an industrial setting.
[Internet of Things World demonstrates how the next generation of IoT will converge to unlock the intelligence of things in the industrial, enterprise and consumer realms. See what's new for 2018.] 
The aforementioned report provided a list of possible objectives the Industrial Internet can enable — that may or may not be sequential — while also illustrating the technology's capacity to spark change on small and large scales.
1. Target the Proverbial Low-Hanging Fruit
The Hitachi Vantara and Forbes report recommends that initial Industrial Internet projects target low-risk applications with a defined ROI. Echoing advice from HCL and MIT and others, projects yielding a quick return on investment can inspire confidence and  provide experience to tackle progressively more complex challenges. A familiar example from the smart cities realm is that of connected LED lighting, which can help cities reduce one of their core expenses (energy use) in multiple ways (higher energy efficiency and the ability to dim lights or to optimize lights based on activity).
2. Double Down on Efficiency
After achieving initial wins from straightforward IoT projects, industrial companies can aim to gain further efficiency gains with connected technology. This could be the transition from, say, repairing an elevator based on sensor data, rather than a technician's instincts with the holy grail being predictive maintenance — being able to fix the elevator before it needs repairing.
3. Optimizing for Flexibility
There's been a fair amount of buzz in recent years about the concept of lot size of one: the prospect of manufacturers creating a bespoke product whenever they want. While this idea may still be mostly aspirational, many manufacturers are using Industrial Internet technology to enable flexible manufacturing to quickly and efficiently produce small lot sizes. A number of manufacturers are also exploring the idea of one day offering custom or semi-custom products.
 4. Pivoting to Digital Transformation 
In the past year or so, there has been a steady uptick in interest in digital transformation, occasionally viewing IoT as a tool to help drive a business based on data rather than physical products. But one of the central promises of IoT in the industrial sector is its potential use connected technology to enable new business models — often selling products as a service.
The Hitachi Vantara / Forbes report paints a picture of Industrial Internet digital transformation as being a "fully connected manufacturing process" that connects a manufacturer to both its suppliers and customers.
 5. Driving IoT-Fueled Innovation 
One of the central benefits of launching IoT is they lead to "unexpected insights," as Richard Soley, Ph.D., the executive director of the Industrial Internet Consortium has explained when referring to the organization's testbed program. Hitachi Vantara and Forbes reached similar conclusions about the IoT projects, but emphasized the possibility for Industrial Internet technologies that are fully operational. As an example, the report cites a manufacturer as a digital health monitor that flags a clinical discovery of interest to insurers and healthcare providers.
Sign Up for the Newsletter
The latest IoT news, insights & real-life use cases...delivered to your inbox
You May Also Like
---