The AT&T Foundry and the Power of Pragmatic Prototyping
The AT&T Foundry and the Power of Pragmatic Prototyping
The telecom company's Plano, Texas–based foundry contains a mixture of high-tech gadgetry and everyday IoT-enabled items such as refrigerators, pallets, retail shelves and even a portable toilet that knows when it needs cleaning.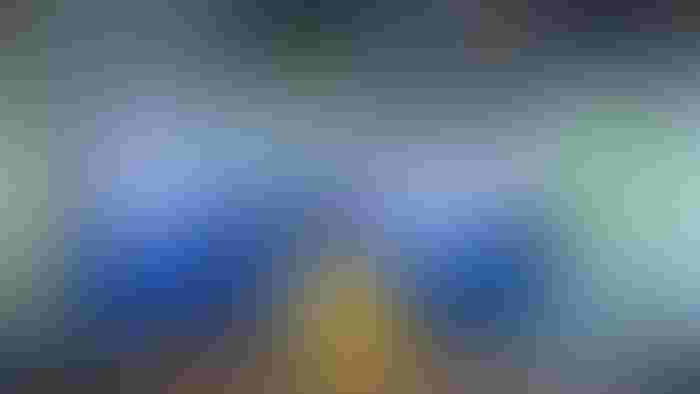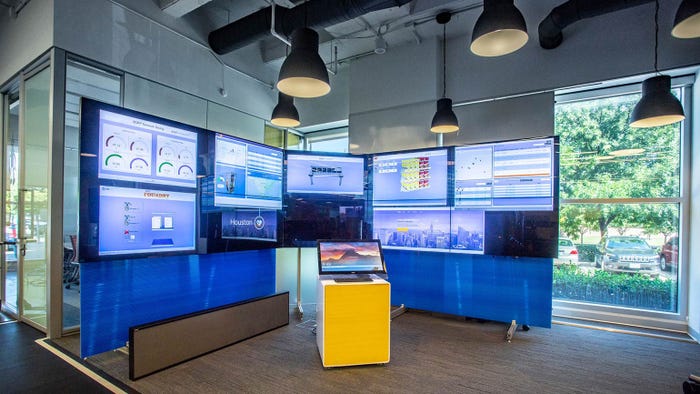 The data analytics center at the AT&T Foundry.AT&T
Hidden within a three-storied office building in the Dallas suburb of Plano, Texas is the AT&T Foundry, a startup lab brimming with prototypes and equipment.
Walking through the center, you get feeling that the AT&T Foundry has one of everything. On the first floor of the building is a vertically-focused showroom. The first thing you notice there is an ABB robot that can deftly put "tchotchkes in a box," as Craig Lee, the director of the lab puts it. From there, the boxes whiz down an IoT-enabled assembly line and onto a nearby trailer.
Not far away is a replica of a retail environment, replete with large bags of potato chips. If you walk up and remove three bags, a counter display retallies how many are left on the shelf. "If you are the brand owner responsible for replenishment, there is quite a bit of value in more accurately mapping where you are going," Lee said.
[IoT World is the event that takes IIoT from inspiration to implementation, supercharging business and operations. Get your ticket now.]
Also in the AT&T Foundry is a replica of a semi-truck cab complete with a high-resolution, video-game display, pedals, speakers and authentic-looking dashboard controls that helped an AT&T customer develop a tracking system.
Around the corner is a connected Red Bull cooler that can track when a customer opens its door and infer when a can has been removed. The cooler also can communicate potential maintenance problems to repair staff. The device uses a Wi-Fi sniffer to infer location, enabling it to detect when the cooler has been removed from its intended retail location and shows up in, say, a college dorm room. The smart Red Bull fridge can also infer if it is in an ideal spot in a store. "Red Bull pays the store a monthly fee to put the [cooler] in a good spot," Lee said, which typically means near the cash registers at the front of the store. "We put a motion sensor in the front that counts the number of people passing by. If you were expecting 1,000 people walking by per day and you are only getting 20, it is not in the right spot."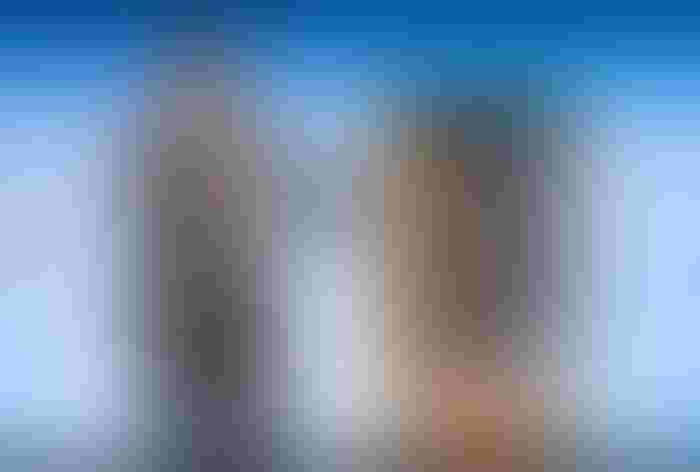 The Red Bull cooler displayed at the 2016 AT&T Summit.
Upstairs in the Plano AT&T Foundry is a workshop filled with an array of technologies that showcases AT&T's rapid approach to developing prototypes of products that solve customer needs. The employees in the center tend to use something of a "less is more" strategy when tackling challenges or business problems. "Let us figure out how to solve the problem without using a super-glitzy technology," Lee said. "You can always add more stuff to it, but if you can't address the basic need with the least amount of cost to deploy, it is likely not going to go out into production."
Related Content
The reason AT&T created its network of foundries is to help its customers address a business need with an IoT product as quickly as possible. In addition to the one in Plano, there are three locations in the United States, one in Mexico and another in Israel. The company's extensive experience working with connected devices (the Plano AT&T Foundry was founded in early 2011) helps customers avoid "going down dead ends," Lee said.
The foundry's upstair collection of production equipment can also accelerate prototyping. For instance, instead of sending out a circuit board design to a manufacturer and waiting weeks to receive the board, the Plano AT&T Foundry can produce PCBs in-house in minutes. A precise pick-and-place machine can help assemble minute components. In the back is a water jet cutter that can slice through pieces of steel as much as 10 inches thick. In addition, 3-D printers are on hand to make custom housings and other plastic parts. The center can also make limited runs of injection-molded parts and has tooling for woodworking. The latter came in handy for a client who wanted to incorporate trackers into two-by-fours attached to shipping pallets.
This being AT&T, the center wouldn't be complete without machines that can generate cellular (as well as Wi-Fi and GPS) signals. "The machines will recreate all of the different types of cellular technology — narrowband all the way to 2G," Lee said. "They also will recreate all of the frequency bands that are used across the world. You can take a device on a tour and make sure that it works in all of the places it is supposed to work."  
One example that highlight the Foundry's pragmatic problem-solving approach is a portable toilet prototype. One of AT&T's customers, a construction company conglomerate, was battling worker attrition. The customer surveyed workers to understand what their complaints were. The first was related to the lack of clean portable toilets while the second was access to cold bottled water.
So the AT&T Foundry worked to come up with products to address both. One central challenge was that the construction company rented the portable toilets from a service provider. "How do you sense that is not a pleasant thing to use?" Lee asked. "What we finally worked out was a motion sensor. We are using the human as the sensor."
An LTE-M battery powered sensor in the unit measures how quickly the door is open. That measurement is then beamed to the cloud for analysis. If the door is slammed shut, it provides a useful signal that the unit needs cleaning. "We will see the door open and closed without a person going in. That signature shows that something is wrong," Lee said.  
Extra sensors on the unit measure tilt and can detect if it has been tipped over.  "The minute this happens, it sends out an alert," Lee explained.
"A GPS sensor helps cleaning staff locate units that need servicing," Lee said.  
"We also had coolers that had sensors that can detect if there was ice and bottled water in it," he added. "If it started getting warm, we knew the ice melted."  
Many of the diverse use cases the AT&T Foundry focuses on can use the same basic technological enablers, but Lee isn't focused on solely proving that point with experimental projects with a slim chance of commercialization. "We call it a 'foundry' because we're making things," Lee said. "For the most part, [the projects here] are things we have developed or enablers we have used to solve customer problems," he added. "Some of them flow down and become mass produced like the cooler tracker [for Red Bull], but at the same time, some of this technology we develop could go off and become a product for a customer."

Sign Up for the Newsletter
The latest IoT news, insights & real-life use cases...delivered to your inbox
You May Also Like
---