IoT World Awards Winners Announced
IoT World Awards Winners Announced
Winners of the first-ever IoT World Awards were revealed on Wednesday in 11 categories, honoring the best of the best in projects, products and people in the IoT ecosystem.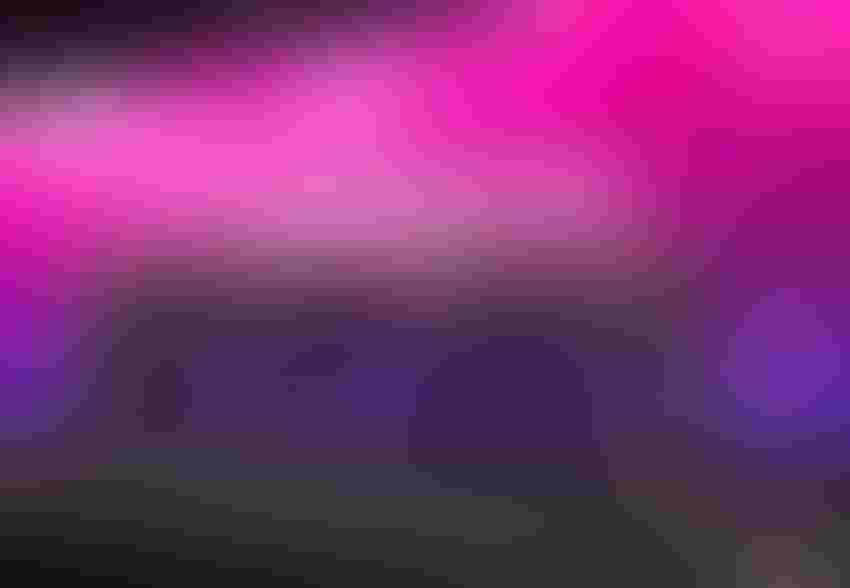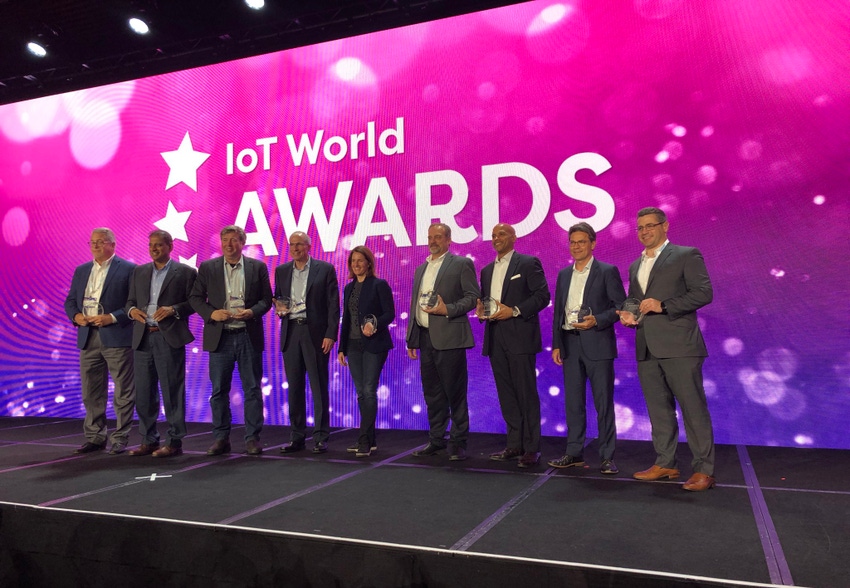 SANTA CLARA, California — Winners of the first-ever IoT World Awards were named here Wednesday night at an awards celebration and dinner at the Internet of Things World conference. The awards program highlighted exemplary IoT projects, products and people in 11 categories, with 51 entries named as finalists.
The categories in the inaugural competition stretched across the IoT ecosystem, from organizational awards (most promising startup and most notable acquisition); to products in the edge, connectivity, security, industrial and consumer spaces; to a real-world deployment; to recognition of integration-focused advancements; to personal trophies for C-level execs in both the enterprise and vendor categories.
A mix of editors, analysts, researchers, consultants and others participated in the judging process for the non-personal IoT World awards. The personal awards were chosen based on votes by nearly 5,000 industry professionals.
The winners demonstrate a maturing IoT market, with products aimed at honing the implementation process, squeezing additional value from IoT projects, making them more secure and less expensive, and generally adding new levels of sophistication. Taken as a whole, the champions point to continued movement toward the promise of IoT.
So, without further ado, the winners are:
Startup of the Year: Apana. Five-year-old Apana won in the startup category for its intelligent water management system, which helps to reduce water waste and optimize its use for industrial and commercial customers. Apana's LoRa-based technology is installed as a retrofit kit and sends real-time water use data to the cloud. The service analyzes the data to identify patterns and sends information about water misuse to frontline workers, who could then take action to stop the waste.
The company said its business model involves three sources of revenue: sales from IoT and sensor equipment required for initial setup of the water management system; recurring revenue from its automated smart water management service; and licensing fees from water meter manufacturers and channel revenue from partnerships and consultancies.
Costco, Fetzer Winery, Kurita Water Industries and MGM Resorts are cited by Apana as customers.
According to the company, its technology reduces capex costs for connecting water meters to networks by 75% compared with traditional techniques.
Startup of the Year shortlisted entries: Apana, Bear Flag Robotics, Longview IoT, Romware, Temboo and Tempo Automation.
Best Enterprise IoT Deployment: Avis Budget Group. Avis Budget Group took home this prize in recognition of its multiyear program to connect its 600,000 vehicles to its IoT platform and mobile app. In 2018, partnerships with vehicle manufacturers such as Toyota and Ford, hardware companies such as ID Systems and technology providers such as Continental figured prominently in its plan to connect more than 100,00 vehicles. In Kansas City, it showcased connectivity of all 5,000 vehicles in its regional fleet there. Late last year, it announced its tech platform would be hosted on AWS Connected Vehicle Cloud. Avis Budget Group touts benefits of the program, both for the company and its customers. Internally, Avis has reduced operational costs and cut revenue loss from fuel and vehicle recovery. Externally, it says, customer satisfaction associated with the mobile app has increased in the double digits, measured by Net Promoter Scores.
Best Enterprise IoT Deployment shortlisted entries: Avis Budget Group, Dell Technologies, Johnson Controls, and SAS and Volvo.
Achievements in IoT Integration: Siemens MindSphere integration efforts. According to the company, its integration differentiators fall into three categories:
Connectivity. Siemens provides connectivity to a range of assets and systems, including industrial and enterprise systems, data historians, supervisory control and data acquisition (SCADA), distributed control systems (DCS), manufacturing execution system (MES), manufacturing operations management (MOM), product lifecycle management (PLM), enterprise resource planning (ERP), quality management (QM) and supply chain management (SCM) systems and service platforms.

Digital twin capability. Siemens said its digital twin platform integrates operational asset data; data from product, production and performance twins; and industrial IoT analytics.

Ecosystem support. The company's integration services encompass devices and systems (including on-premises and cloud-based systems) from Siemens as well as other manufacturers.
According to Siemens, its R&D team's efforts related to integration focus on data lakes, data contextualization and data connectors for additional data integration within MindSphere. The company boasts of a benchmark it recently completed at an automotive company, with all integration and analytics work completed in two weeks — after two competitors spent five weeks without finishing either the integration or analytics work, it said.
Achievements in IoT Integration shortlisted entries: Integron, Red Hat, Siemens and TomTom.
IoT Merger/Acquisition of the Year: IBM and Oniqua. IBM acquired Oniqua, a maintenance, repair and operations (MRO) company focused on the mining, oil and gas, utilities, process manufacturing, and transportation industries, in June 2018 and then folded it into the Global Business Services and Watson IoT business units. IBM intends to leverage Oniqua to enhance its software as a service (SaaS) offerings aimed at digital transformation of asset-intensive industries, giving clients the ability to monitor, manage and proactively maintain their assets; minimize operational downtime; and optimize inventory costs. According to IBM, Oniqua gives the company the ability to improve its asset optimization portfolio, which includes Maximo enterprise asset management, predictive maintenance and prescriptive repair.
IBM says that Oniqua provides an ROI of between 100% and 400% in the first year of deployment; 15% to 50% reduction in inventory; 30% to 50% reduction in stock-out risk; 15% to 40% reduction in maintenance budgets; and 20% to 25% improvement in supplier performance.
IoT Merger/Acquisition of the Year shortlisted entries: IBM/Oniqua and Microchip Technology/Microsemi.
Best Consumer IoT Solution: Phyn Plus Smart Water Assistant + Shutoff. According to the Phyn, the product gives homeowners an unprecedented understanding of their water use, toward the goal of avoiding leaks, conserving water and saving money. It monitors a home's entire plumbing system from a single location on the water line, measuring changes in water pressure 240 times a second. It alerts homeowners immediately upon detection of a leak, diagnosing potential problems before they wreak havoc. The Phyn Plus Smart Water Assistant + Shutoff develops a "fingerprint" of each plumbing fixture in the home to be able to ID the source of a leak. If a home experiences a sudden large leak, the Phyn Plus can automatically turn off the water.
The product has a mobile app that allows remote monitoring of water usage, remote control of water use in up to six properties, and integration with Alexa for voice queries and commands.
Best Consumer IoT Solution shortlisted entries: HCL Technologies Ltd., LexisNexis Risk Solutions, Phyn, Schneider Electric, TUV Rheinland AG and Xperiel and Inc.
Best Edge Computing Solution: Dell Technologies' "open edge" software stack. The "open edge" approach consists of commercially supported versions of the open source EdgeX Foundry framework. It runs on Photon OS, is managed by VMware's Pulse IoT Center and has builds available for Dell Gateway hardware or other ARM reference boards. The company describes the stack as modular and open, able to work with any device, hardware, app or cloud service. It has integrated device management and prebuilt software connectors (to sensors and devices as well as to the cloud) that help accelerate the implementation, deployment and operation of IoT projects. Its open architecture allows developers to quickly move between projects without having to learn custom code, and components can be reused in multiple projects.
Best Edge Computing Solution shortlisted entries: Dell Technologies, EdgeX Foundry, FogHorn, Itron Inc., Lantronix Inc. and Relayr.
Best IoT Security Solution: AWS' IoT Device Defender. This product audits device-related resources (such as X.509 certificates and client IDs) for compliance with best practices, such as the principle of least-privilege. It detects unusual behavior by continuously monitoring security metrics from the device and AWS IoT Core, and it reports devices that are out of compliance. It also facilitates mitigation steps, such as revoking permissions or rebooting a device.
The company cites customers across vertical markets, from industrial to consumer to enterprise.
Best IoT Security Solution shortlisted entries: AWS, Darktrace, Dell Technologies, G+D Mobile Security, Mocana and Kudelski Group.
Best IoT Connectivity Solution: Senet's Low Power Wide Area Virtual Network. Senet said it takes a modern approach to global network deployment and management. The Low Power Wide Area Virtual Network allows device connectivity on any LoRaWAN network using Senet's OSS and BSS platforms, which eliminates the need for roaming contracts and delivers low-cost connectivity. According to Senet, third parties can build IoT-related services on top of the Senet network. The company points to distribution partnerships with SenRa (India) and Inland Cellular (Northwest U.S.) and to deployments by New York City (LoRaWAN gateways on city-owned buildings in all five boroughs) and propane and oil tank monitoring company WESROC.
Best IoT Connectivity Solution shortlisted entries: Emnify, MediaTek, Nordic Semiconductor, PTC and Senet.
Best Industrial IoT Solution: IBM Watson IoT Platform. This service (available across public or private cloud or in a hybrid cloud deployment model) aims to simplify the process for industrial shops in a variety of markets to capture and explore data from IoT devices, equipment and machines. The service comprises three components:
IoT Platform Connection Service. This service helps to securely register and connect resources to IoT Platform.

IoT Platform Analytics Service. This service focuses on visualizing and analyzing IoT data, enabling AI-driven predictions about the assets connected to IoT Platform.

IoT Platform Blockchain Service. This service aims to validate transactions among IoT resources within IoT Platform, delivering the ability to track and trace assets as, for instance, they move through a supply chain.
IBM touts the impact of IoT Platform across a range of industrial verticals, including cosmetics manufacturing, mineral mining, home appliance manufacturing, the shipping industry, railways, energy supply companies and offshore drilling operations.
Best Industrial IoT Solution shortlisted entries: Cloudera, FogHorn, IBM, Itron Inc. and Software AG.
Enterprise CxO of the Year: Joanna Sohovich. The CEO of access control and smart home integration company Chamberlain Group snagged this award based on her work on Chamberlain's myQ technology, which enables users to control or monitor garage access via smartphone.
Lutz Beck, CIO at Daimler Trucks North America, took second place, and Arthur Orduna, CIO at Avis Budget Group, came in third.
Solution Provider CxO of the Year: Kevin Brown. Kevin, senior vice president of innovation and CTO in the Secure Power Division at Schneider Electric, is known for creating high-impact strategies and teams to maximize revenue, profit and competitive advantage.
Anthony Bartolo, chief product officer at Tata Communications, took the silver medal, and Bask Iyer, CIO at VMware, claimed third-place honors.
Sign Up for the Newsletter
The latest IoT news, insights & real-life use cases...delivered to your inbox
You May Also Like
---