The World's 5 Smartest Cities
The World's 5 Smartest Cities
Even though the term "smart cities" has become a buzzword, it can be difficult to determine which smart-city initiatives are the most advanced.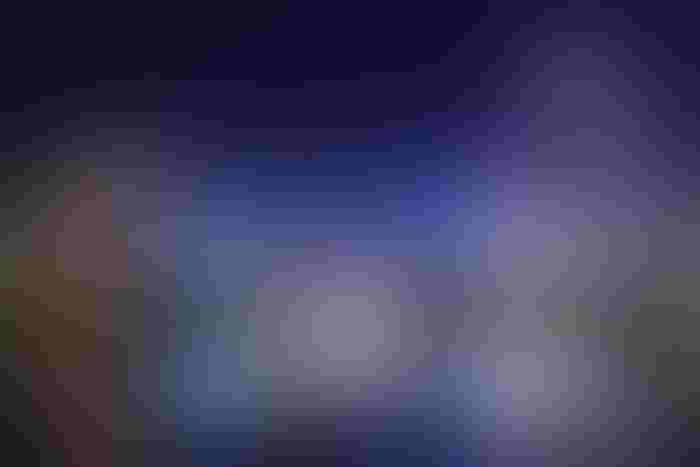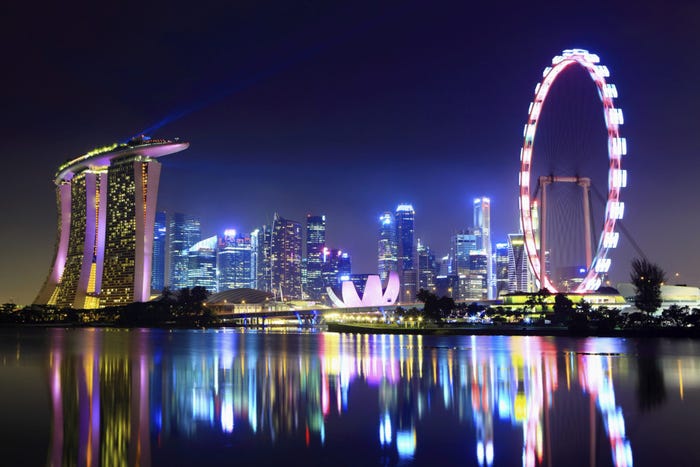 Singapore city skyline at nightiStock / leungchopan
Market research firm Juniper Research (Basingstoke, UK) recently crowned Singapore as the smartest city on earth after sorting through a mountain of data related to cities around the world. To arrive that conclusion, researchers at Juniper ranked cities by an array of factors including their adoption of smart grid technologies, intelligent lighting, the use of information technology to improve traffic, Wi-Fi access points, smartphone penetration, and the app landscape.
"In terms of software applications, we looked at traffic apps and city information apps that leverage open data sources," says Steffen Sorrell, Senior Analyst at Juniper Research. "We apply different weightings to transport and energy, which we believe are the most important elements in smart cities," Sorrell says. In evaluating transportation, Juniper analysts considered public transportation options, subtracting points for cities with high levels of private vehicle ownership. When evaluating cities' efforts to improve traffic, they assessed city planners' efforts to implement congestion charges, dynamic traffic lights, the use of road sensors, and smart parking. "Regarding energy consumption, we looked at the kinds of policies cities are taking. We looked in particular at things like the smart grid, their smart meter rollout, and what kind of policies the local government has made for sourcing sustainable energy."
Finally, Juniper Research studied the economy of major cities with smart cities initiatives. "Not all cities are declaring a budget for what they are putting into smart cities," Sorrell says. "So we look at the economic output of these cities with the assumption that it is going to feedback into the local government to help pay for future smart cities technologies." Here are five smart cities examples, from those named in Juniper's report.
1. Singapore
The Republic of Singapore has announced its quest of becoming the first smart nation. A program launched by Prime Minister Lee Hsien Loong in late 2014 calls for an unspecified number of sensors and cameras to be deployed across the island to track everything from cleanliness to traffic. In any case, the number of sensors being installed across the island will be large. Already, the city can detect if people are smoking in unauthorized zones or if people are throwing litter out of high-rise buildings. But substantially more data is coming, according to the Wall Street Journal, which announced in a recent headline that "Singapore Is Taking the 'Smart City' to a Whole New Level."
Juniper Research gave Singapore high marks for its smart mobility policies and technology as well as its wireless connectivity. In 2014, the city-state announced that it was developing software it calls "Virtual Singapore," a dynamic 3-D model that enables city planners to run virtual tests—verifying, for instance, how crowds might evacuate from a neighborhood facing an emergency.
In any interview with WSJ, Singapore's foreign affairs minister and minister-in-charge of its Smart Nation program acknowledged that privacy and security were chief concerns and stressed that the government would work to ensure that data is anonymized when possible. The government has made much of the data it collects public. Participants can check closed-circuit TV footage and monitor parking thanks to sensors installed as part of the Singapore's Smart Nation program.
"Singapore is undoubtedly the world leader when we look at transport network," Sorrell says. Singapore has aggressively implemented congestion charging while also making substantial investments in road sensors, phased traffic lights, and smart parking. The city-state's leadership in transportation is not surprising given that the system has a long history of using information technology to improve traffic. In the 1970s, it launched an initiative to address what was then a chronic congestion problem. "The systems Singapore has put in place since then have been pretty effective in terms of improving the average speed traveled by cars on the main roads," Sorrell says. Oh, and driverless cars will be soon coming to Singapore.
The city-state also has high smartphone penetration and scores well regarding in broadband availability. The company Singtel recently announced that it was rolling out a 10-Gbps fiber broadband service that would enable residents to download a two-hour HD movie in 90 seconds. "The network is one of the cheapest in the world based on the cost of broadband per unit of currency," Sorrell says.
Singapore also has an open data platform related to data collected by sensors located on the island. "Some cities conduct smart cities projects and do not make their data available to the public. When that happens, it is just the city deciding what will be done in isolation. But Singapore, Barcelona, and London are trying to engage their citizens to help determine what to do."
2. Barcelona
The chic capital of Catalonia region in northeastern Spain, Barcelona has made extensive use of sensors to help monitor and manage traffic. City planners recently announced their plan to remodel the flow, which they say will be reduced by 21%. The city is doing more than using smart-city technology to reduce traffic. It has installed smart parking technology as well as smart streetlights, and sensors for monitoring air quality and noise. It is also expanding a network of free Wi-Fi in public spaces. In Juniper Research's recent roundup, Barcelona fell a rung from the leading spot it had past year. Still, the research agency praised the city's environmentally sustainable projects, which it said was measurably better than either New York City's or London's.
"Barcelona's strength is in its sustainable energy—smart grid pilot projects, smart meters, and its comprehensive plan for reducing carbon emissions," Sorrell says. "On top of that, it is rolling out smart LED lighting."
Barcelona has also been a trailblazer regarding how it has addressed drought. The city ran out of water a few years ago. As a result, it has developed a smart city sensors system for irrigation. Sensors in the ground analyze rain alongside the predicted level of rain forecasted to occur and will modify the city's sprinklers accordingly to help conserve water.
The city has also made its Sentilo sensor and actuator platform available on the Internet. The open-source software platform can be found on Github. The availability enables city planners around the world to study data from Barcelona's smart city projects and learn from them.
3. London
London has long ranked near the top of the list in roundups of smart cities in the world. It began to take early action in using technology to help tackle congestion and make parking simpler. One of the tech hubs of the world, London fares well regarding broadband availability. More recently, city planners announced a plan to implement information technology to curb congestion. London has also committed to making available data from its smart city initiative public via its London Datastore. "For instance, London has an app built on open data that will take your location, and you can say where you want to go, and the app will tell you the routes you can take," Sorrell says. In 2014, London began rolling out a smart parking initiative in the Westminster neighborhood. Despite excelling in many areas, Juniper Research noted that London's score was brought down because of its reliance on unclean energy and its "relatively poor energy use reduction initiatives."
It is, however, forward-thinking regarding how it is using technology to address traffic. "London has announced a £4-billion pound investment in roads over the next decade including £200-million investment in the bus network," Sorrell says. Already, the city has made big investments in smart traffic technology. Not only do the traffic lights respond in favor of buses to smooth the progression of public transport, but there also is a congestion charge that was implemented in 2003. "There is messaging available to inform drivers of congestion. It is a cohesive effort by the city to reduce congestion," Sorrell says. "But the way the city is constructed is not favorable to the number of cars on the road. The city—like many European cities—was never designed for cars."
4. San Francisco
That the City by the Bay is one of the first cities in North America to adopt smart city technology is only fitting: the recent tech boom has made SF the unofficial capital of Silicon Valley. As CNN declared last year, San Francisco is now a hipper spot for startups than cities like Palo Alto, Mountain View, or San Jose. San Francisco's Connected City initiative enables residents to locate parking spots. The city is also forward thinking in its sustainability and smart urban development initiatives. It also has one of the highest densities of LEED-certified buildings in the United States.
The recent tech boom, however, has choked traffic in the city. Mayor Ed Lee is confident that the city can overcome the problem and transform SF into a national model for "smart transportation." On a related note, the city is vying for a $40 million prize from the U.S. Department of Transportation. City officials are collaborating with researchers at UC Berkeley in the national competition.
[For more smart cities examples, see this report on the top 25 smart cities on the planet.]
The public transportation network in San Francisco, although aging, already fares well in certain areas, according to Juniper research. "The city scores high in terms of bus availability," Sorrell says. "San Francisco also has a good payment system. You can pay online, and contactless payment is available as well." Still, the city is facing a growing congestion problem that has worsened amidst the recent tech boom. "I think there are several contributing factors there. The level of private vehicle ownership is high. That is one of the elements that brings their score down," Sorrell says. "The time spent in traffic in San Francisco is relatively high compared to other cities on the list."
The city, however, has been a leader in terms of smart parking. The SF Park initiative, which was launched in 2011, leverages sensors to monitor parking spaces. "The idea is that not only can you assess the level of occupancy for parking, which helps the cities manage new parking initiatives," Sorrell says. San Francisco city officials use the data for dynamic parking system that adjusts the cost of parking based on whether spots are occupied or are vacant. "They might say that there is low occupancy in one area and then try to lower the price of it," Sorrell explains.
5. Oslo
The capital of one of the wealthiest cities in the world, Oslo is routinely cited as a contender in lists of the smartest cities in the world. The city has made strides in using information technology to curb energy consumption and greenhouse gas emissions. By 2020, the city is aiming to slash emissions by 50% by remaking its transportation grid; by 2030, it is aiming to be 95% climate neutral. Like other smart cities, Oslo has installed sensors to help it monitor parking. The city has installed a sensor network to help improve the care of sick, elderly patients. The city has also established a network of smart street lighting, which has reduced energy consumption by nearly two-thirds.
Oslo's smart-city approach is typical for a Nordic city is progressive with its emphasis on sustainable energy. "We would expect Oslo to be the first to launch commercial smart grid services, and they are living up to that expectation," Sorrell says. "Oslo is one of the leading Nordic countries with its smart meter rollout. There have been some smart grid pilot projects as well." The city also has a comprehensive electric-vehicle-charging network.
The city is also getting attention for its aggressive plans to cut carbon emissions from cars. "They are looking at banning private vehicles by the end of the decade," Sorrell says, citing Oslo's leftist city government's plans to cut greenhouse emissions significantly by 2019. At present, however, the city has a high level of private vehicle ownership.
"Furthermore, like Barcelona, the city's overall approach to energy reduction is very aggressive," Sorrell says. "There is a high percentage of sustainable energy and a policy to reduce carbon production."
Oslo has also started rolling out smart LED lighting and has launched a broad sensing network for monitoring traffic levels. "They have license plate recognition technology which ties into their congestions charging scheme," Sorrell says. "There are apps available for smart parking, which offers mobile payment."
[Smart Cities Summit is the go-to event for government and technology executives mapping America's smart cities. Visit the site to learn more about the agenda, speakers and networking opportunities.]
Sign Up for the Newsletter
The latest IoT news, insights & real-life use cases...delivered to your inbox
You May Also Like
---