Tesla Reveals Optimus Robot at AI Day
Tesla Reveals Optimus Robot at AI Day
The planned development of the humanoid robot was first announced at last year's event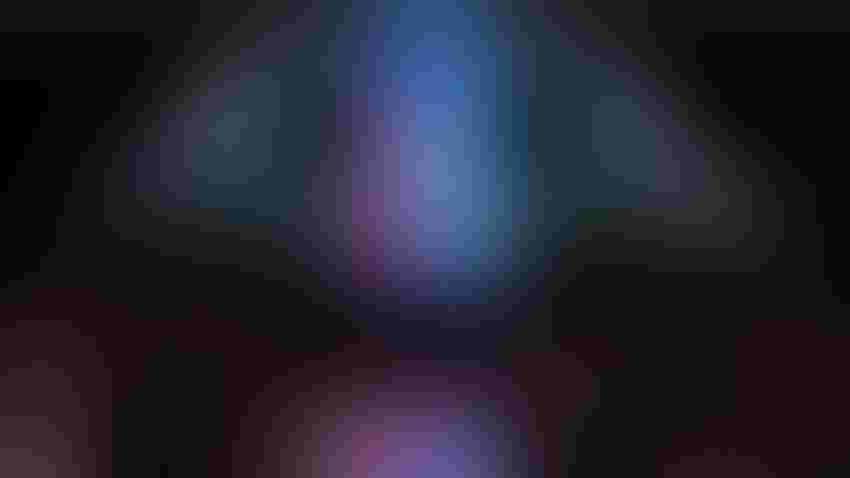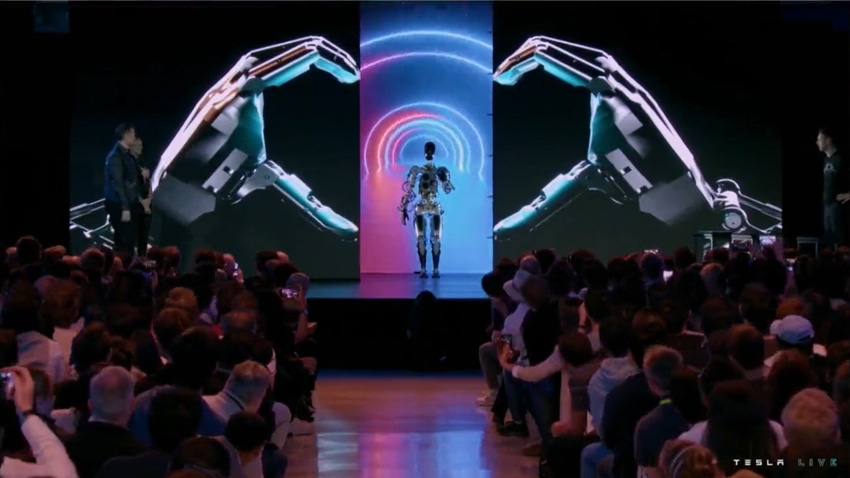 Tesla used its annual AI Day to introduce its eagerly anticipated humanoid robot, Optimus – and its debut was accompanied by some typically ambitious claims.
According to the company, Optimus is intended for mass production and could sell by the million, retailing for a price under $20,000. 
Its supposed ability to perform tasks currently carried out by humans would have massive consequences, said CEO Elon Musk.
"Optimus, I think, has maybe a two order of magnitude potential improvement in economic output," he said. "It's not clear what the limit actually is. It'll be a fundamental transformation for civilization as we know it." 
For the time being, though, the scope of Optimus's abilities is somewhat more limited, as Musk was unwilling to let the bot walk unaided and it was helped on stage, before waving to the live audience, by Tesla engineers. It is expected the bot will be able to walk within weeks.
Optimus' development has been accelerated by the experience Tesla has in building the AI and actuators necessary for robotics in producing drive units for its cars. It contains a 2.3 kWh battery pack, runs on a Tesla System-on-a-Chip, and has Wi-Fi and LTE connectivity. 
The engineers described how they developed Optimus and explained how data was processed for its hands, wrists and knees. By looking for the common areas, a method using only six different actuators was created, and this focus on making the cost lower is deliberate. "We are trying to follow the goal of fastest path to a useful robot that can be made at volume," Musk explained.
The concept of a Tesla bot was first announced at last year's AI Day, although the company attracted widespread derision by accompanying its original announcement with a person in a white suit simulating a humanoid robot. The progress made in a year, then, is significant.
While ostensibly envisaged to work on the company's assembly line and in manufacturing processes, other use cases for Optimus have been suggested including gardening, shopping and even companionship – it can "also be kind of like a friend and a buddy and hang out with you," said Musk.
Although other bots have been presented by different companies that have more advanced capabilities than Optimus, where Tesla differs is that it has been transparent from the outset about its ambition to build millions of robots.
When this might happen, though, is unclear, as no concrete timeline was provided.
Self-Driving Tech Update
Tesla also used AI Day to provide an update on its self-driving tech, which has been in the firing line in recent months amid class-action lawsuits over its capabilities, allegations of false advertising and numerous investigations by the National Highway Traffic Safety Administration into fatal crashes involving Teslas.
More than 160,000 drivers are now running the Beta software version of the Full Self Driving – up from 2,000 a year ago – and Musk claimed that the tech would be ready for a global rollout by the end of this year. Lack of regulatory approval in many markets will prevent this from happening, though.
Sign Up for the Newsletter
The latest IoT news, insights & real-life use cases...delivered to your inbox
You May Also Like
---