The 50 Most Influential Women in IoT
The 50 Most Influential Women in IoT
We've doubled the size of our list of female Internet of Things pioneers.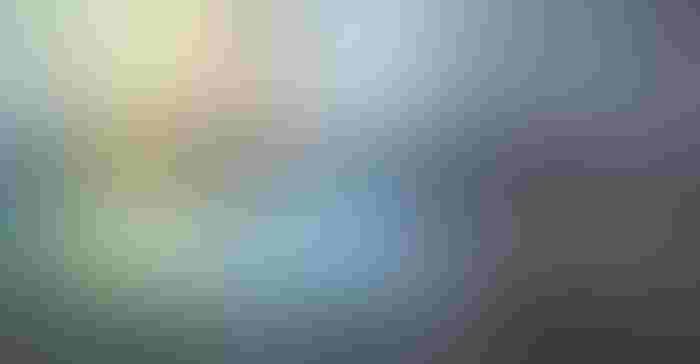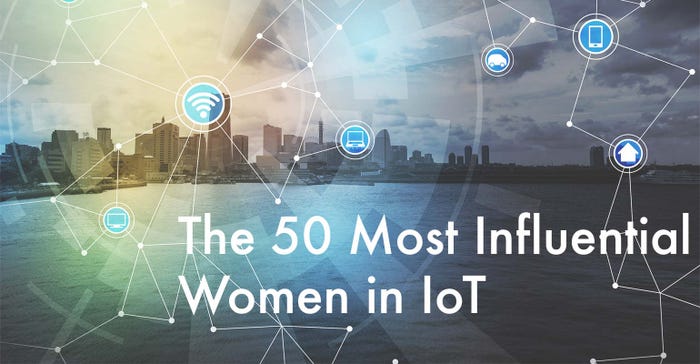 A month ago, we created a list of some of the top 25 women in IoT. The list was exceptionally well received, yet didn't do justice to the achievements of women in the young Internet of Things industry. Here, we highlight the accomplishments of another 25, including suggestions from our network, colleagues, and our own research.
Stephanie Atkinson
Atkinson is the founder and CEO of Compass Intelligence, a high-tech market research firm. IoT is one of the core focus areas of the company. Today's Wireless World named her as one of the Top 100 Wireless Technology Experts while Onalytica selected her as a top M2M influencer.
Helene Barnekow
The CEO of Telia Sweden, Barnekow also worked as the senior vice president of worldwide field and partner marketing at EMC. Computer Sweden named her to their top 5 list of "the most influential Swedish women in IT."
Ryane Bohm
Bohm is the technical product marketing manager for industrial IoT at GE Digital. Last year, Loyola University Chicago's Quinlan School of Business named her as an emerging leader in business.
Sarah Cooper
The general manager IoT solutions at Amazon, Cooper is also the vice chairwoman for the Internet of Things Community in Silicon Valley. Holding a Ph.D. in physics, Cooper is also a multidisciplinary entrepreneur and the inventor of an IoT medical battery that runs on body temperature. Connected World has named her as a Women of M2M.
Pamela Cortez
Program manager evangelist for IoT at Microsoft, Cortez is also the connected devices developer advocate and hack ninja at5 SparkFun. She also serves as the study group evangelist, coordinator, and event leader for the Boulder/Denver chapter of Women Who Code.
Lona Dallessandro
Dallessandro leads business development activities for Autodesk IoT products. Before assuming her current role, she served as vice president of StepOne Inc., a data analytics company.
Jeanne Beliveau-Dunn
Beliveau-Dunn is a vice president, general manager at Cisco and the Chairman and President of the IoT Talent Consortium. She also is the president of a non-profit designed to help train the workforce for IoT-related jobs.
Maggie Chan Jones
SAP's CMO, Chan Jones develops the marketing strategy for the company's international operations including its IoT initiatives. In the past, she has worked for Level 3 Communications and Microsoft Corporation, where she was the marketing director of U.S. Cloud Services and Office 365.
Neira Jones
A London-based independent advisor and international speaker on an array of topics spanning financial technology to cybersecurity, Jones often covers IoT-related subjects. She chairs the advisory board for the mobile firm Ensygnia and serves on the global advisory board for the Centre for Strategic Cybercrime & Security Science. Tripwire named her as a top security influencer. She is in the InfoSecurity Europe Hall of Fame alumni.
Scarlett King
King is the director of IoT Solutions, smart connected cities, communities, and Energy Lead at ?Bosch Software Innovations. Before taking her present role, she was the director of M2M and IoT business solutions for Numerex Corp.
Laurie Lamberth
The IoT practice lead and associate partner for 151 Advisors, Lamberth helps develop strategies for mobile, wireless, and web-based software and technology companies. She is also an advisor to Building Brains, which is making IoT technology to enable seniors to "age-in-place." Connected World Magazine has cited her as a Woman of M2M while Onalytica has listed her as one of the top IoT influencers.
Juliann Larimer
Larimer is the chief marketing officer for Zebra Technologies a supply chain tracking company that offers IoT technology. Last year, Larimer won the Illinois Most Powerful & Influential Woman Award. She has also worked in a number of leadership positions at Motorola.
Inbar Lasser-Raab
The vice president, infrastructure and digital solutions marketing at Cisco, Lasser-Raab helps lead marketing efforts for the company's cloud, data center, networking and the IoT divisions. Before coming to Cisco, she served as the vice president of marketing at Riverstone Networks, which was ultimately acquired by Lucent.
Amanda Lowe
The ?director, product marketing, IoT at Wind River, Lowe previously worked as the company's senior manager of product marketing for IoT, industrial, and energy.
Felicite Moorman
Moorman is an award-winning technology entrepreneur, speaker, and attorney with over twenty-five years of experience founding, running, and exiting companies. She has developed strategic partnerships and unprecedented technology strategies and initiatives in the Internet of Things industry. She is CEO of BuLogics, which designs, builds, and certifies IoT devices, and StratIS, a software platform for large-scale IoT installations in commercial residential real estate.
Joyce Mullen
The vice president and general manager of Dell Global OEM Solutions and Internet of Things Solution Sales, Mullen heads up the company's global sales, services, product development, marketing, operations and telecommunications teams.
Beverly Rider
The head of Cloud, IoT and Smart Cities at Ericsson North America, Rider also worked for six years as the CEO of an IoT start-up. She is also an attorney, having graduating Cum Laude from the University of Seattle School of Law.
Milena Sidler
The senior vice president of product and sales at CyberVision, the maker of a free, open-source IoT platform known as Kaa. Sidler leads the company's U.S. sales organization and its international pre-sales engineering team.
Alison Slavin
A pioneer in the smart home market, Slavin is the co-founder of Alarm.com, which developed a connected home platform. Currently the SVP Creation Lab at Alarm.com, she has been responsible for the company's product roadmap for more than ten years.
Jaishree Subramania
The director of IoT marketing at Cisco, Subramania also manages the company's Internet of Things World Forum event. She had formerly served as the senior marketing manager at Cisco leading its IoT and enterprise networking operations.
Paloma Vivanco-Coutts
Vivanco-Coutts began her career in the telecom space. She has worked for an array of telecom companies including Telecom NZ, 3 Mobile UK, Vodafone Group, British Telecom, Virgin Mobile. In the beginning of her career, she worked primarily in a commercial development, marketing, and product development capacity but later launched a career as a consultant. "I set up a consultancy as I felt there was a need in the market for businesses to understand the power of location intelligence, IoT, data collection and monetization of that data," she says. One of her clients is the remote-patient monitoring company Jupl, which uses IoT technology to improve health tracking of seniors. "I'm mega passionate about this industry, and love to see the different applications, usage and new revenue streams being created in the IoT space with different vertical industries," she says.
Marcia Walker
Marcia Elaine Walker is a principal manufacturing industry consultant at SAS, where she helps clients apply data management and analytics technologies to make better decisions faster. Prior to joining SAS, she served as a senior director in the customer value office at SAP and is a contributing author for two SAP Press books, including "Making the Case for SAP HANA,"published in January of 2015. Her career has revolved around heavy industries, including energy, manufacturing and mining. Her experience includes managing multiple engagements with the Deloitte Consulting manufacturing practice, service in the industry business of Schneider Electric, and a decade in roles of increasing responsibility at Rockwell Automation. She holds five issued and multiple pending patents related to analytics in the industrial space and the digital grid.
Padmasree Warrior
The CEO of NextEV, Padmasree Warrior had served as CTO for Cisco and Motorola. At the Chinese electric vehicle startup NextEV, she plans to use IoT technology to reinvent the "entire experience of owning, operating and using a car." Forbes cited her as one of the most powerful women in the world in 2014. She was inducted into the Women in Information Technology International's Hall of Fame in 2007 and serves on Microsoft's board of directors.
Sign Up for the Newsletter
The latest IoT news, insights & real-life use cases...delivered to your inbox
You May Also Like
---