7 ways a Japanese smart factory in the South represents the future of manufacturing
7 ways a Japanese smart factory in the South represents the future of manufacturing
A high-tech transmission plant in North Carolina embodies many of the megatrends sweeping the industrial sector.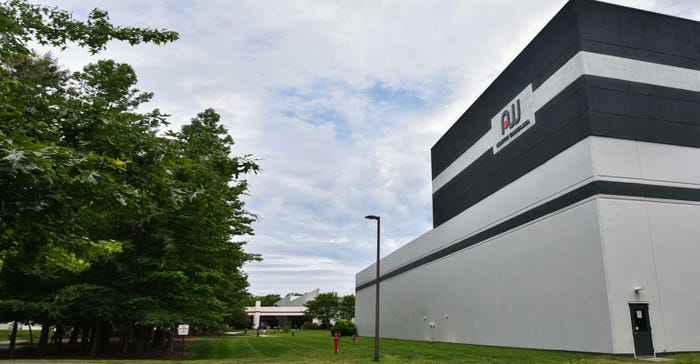 The top manufacturing facility of Toyota transmissions isn't based in Japan but in Durham, North Carolina. The AW North Carolina (AWNC) plant — a subsidiary of AW, which is based in Anjo City, Japan — churns out more than 600,000 automatic transmissions per year for models such as the Camry, Tundra, Tacoma, Sequoia and, most recently, the Rav4. Each day, the smart factory converts cold-rolled steel into more than 3000 transmissions, each of which includes some 700 to 800 parts.
While the output of the Japanese-owned facility is impressive, the plant just might serve as a microcosm for the future of manufacturing, thanks in part to a $1.2-million overhaul of its IT network. But the facility also highlights several trends relevant to IIoT adoption and the future of work.
[Learn more about IIoT at Industrial IoT World, showcasing how IoT transforms business across manufacturing, supply chain and operations. Get your tickets and free passes now.]
1. The Cost of Downtime Can Be Staggering
When John Peterson, general manager, IT at AWNC, began work at the plant in January 2016, his first order of business was to help make the facility into an Industrie 4.0–inspired facility running cutting-edge enterprise resource planning, manufacturing execution system and inventory management systems. But on his first day, he quickly learned just how antiquated the facility's networks were when the system that supports its phone service collapsed. Later, he realized that, about once per month, the network would shut down, halting manufacturing for an average of two to four hours.  
"In our factory, an hour of downtime equates to about $270,000 in lost revenue," he says. "When you add in the cost of lost productivity of salaried employees, maintenance activities, the figure goes even higher."
To transform the facility into a smart factory, Peterson teamed up with Cisco to overhaul its network. Spending $1.2 million on the upgrades, the company says it recouped $1 million of that in the first nine months thanks to maintenance savings.
2. IoT and Network Technology Can Create Jobs  
Having already invested in a $1.2-million network revamp, AWNC is steadily investing in manufacturing machinery with networking functionality. The efficiency gains from that overhaul have spurred a wave of hiring, Peterson says. "Overall headcount is still going up. Because we have been able to increase our productivity in terms of yields and throughput, we have been able to bring in a fourth transmission. Typically we have only been able to build three products at any given time."
Peterson points out that the tech upgrade is also shifting how it hires workers. As the plant gets more equipment with network functionality, it has more of a need for workers with expertise in fields such as electronics, engineering and IT. "Our IT team has more than doubled in the past year," Peterson says.
Dan Wiggins, VP of Manufacturing and IoT Solutions at Cisco, says he sees a similar shift in changing skill sets across the industrial sector. "We are seeing a lot more of a focus on analytics, data science and software engineering," he says.
Ultimately, technologies like IoT are redefining employment in the industrial sector, says Bryan Tantzen, general manager in Cisco's industrial division. "You are not coming in with IoT and eliminating jobs. You are changing jobs, but the employment in your company is increasing," he says. Tantzen cites the growing popularity of collaborative robotics as a case in point. "You don't have the robots in a walled off cage, but you have them working side by side with humans," he says. "Instead of moving the job to the robot, [companies are exploring how humans and robots can] work together."
3. Predictive Maintenance Gets Real 
AWNC's next order of business is to bolster its predictive maintenance capabilities. "We are now bringing on people with a predictive maintenance background," Peterson says. "Two years ago, the company would have brought in people that have good mechanical skills. Now, they are looking for people with mechanical skills who also have a predictive maintenance background."
Cisco is also noticing an uptick in companies deploying predictive maintenance technologies. For instance, the company has been working with Fanuc to use automatic predictive maintenance to eliminate downtime for its robotics. "They can bring [predictive maintenance] down to the part level," Wiggins explains. "They will dispatch a truck with a replacement part before that part fails. Downtime is so mission critical on robotics that predictive maintenance can save thousands and thousand of dollars."  
4. The False Economy of Delaying IT Upgrades
In 2016, Bloomberg reported that U.S. infrastructure and equipment are the oldest they have been since at least 1925. The news organization reported that "the average age of all fixed assets stood at 22.8 years" in 2015. Many industrial facilities also operate aging IT infrastructure and industrial control systems. A significant number of facilities still run Windows XP, which was retired in 2006, or even older software that is no longer supported by updates.
It's common for industrial managers to have an attitude of "making due with what they have," Peterson says. Such was the case when Peterson began work at AWNC.
But this approach can lead to inefficiencies that undercut the goal of saving money, he says. "In the past, we were using a national brand of scanners but our IT organization decided to write custom code for scanning in each part of the organization rather than going out and getting an off-the-shelf application for scanning." This strategy thus limited the plant's ability to scan and thus track materials and goods. "One of the first things I did when I came in is to ask: 'what are we doing? We build transmissions. Why would we write code for scanners when there are hundreds of off-the-shelf programs for that?" Fast-forward to today, and the AWNC facility is using such programs in an array of its manufacturing activities. "Scanning is now one of the biggest things we do — for inventory tracking, tracking materials on the floor, flowing data into our MES and ERP systems," Peterson says.
A year-and-a-half ago, the company had practically no Wi-Fi signal on the shop floor but still had plans to connect its equipment. After installing a secure Wi-Fi network, the company was able to come up with a different strategy for networking its machines. "That saved us about $600,000," Peterson notes.
The facility's high-density wireless upgrades also can be used to identify tagged goods, materials and products. Similar technology can guide the accuracy of production, Peterson says. "We are deploying Bluetooth-enabled devices — calipers and micrometers out in the production environment and then drive that back to the operator," he explains. "We have gone from having almost no wireless technology at all on the floor to almost every tool we have will be Bluetooth- or Wi-Fi-enabled."
"The new IT infrastructure enables us to deploy applications we weren't even thinking about before," Peterson says.
5. IIoT Driving Local Manufacturing Rather than Offshoring
There is a major shift in outsourcing in manufacturing, where a growing number of companies have given up on the idea of sending manufacturing to countries with low labor costs. "With [smart factory technologies], you can put the factory anywhere in the world. That means you can put it closer to your customers and closer to your R&D teams," Tantzen explains.
Peterson agrees that this trend is relevant for his facility. "The fact that you have a facility like this in North Carolina servicing Toyota is because [transmissions] weigh a lot and cost a lot of money to ship," he says. Now, thanks in part to its IT infrastructure upgrades, facility managers at AWNC plan on making an additional transmission model that was formerly produced in Japan.
6. IIoT Security Is a Growing Concern
The potentially crippling power of cyberattacks has become an inescapable reality for industrial organizations. Many manufacturing companies are waking up to this fact.
"We've had several cases of ransomware attacks," Peterson says. Fortunately, the company had installed new firewall technology just before the Locky ransomware attack struck, limiting the damage it caused. "We had some equipment that was impacted, and fortunately we had backups."
Peterson believes that the industrial cybersecurity is a worsening problem. "At least from my perspective, the attacks seem to be getting worse and more frequent," he says. "This is a situation where it is changing every day. We are seeing viruses that are incredibly new. Some of them are a few days old. And the ransomware is getting more sophisticated."
In the end, Wiggins says that addressing the problem requires a comprehensive approach. "It really takes a focus on security architecture to minimize your risk," he says.
7. Data Volume Is Top of Mind for Many Industrial Firms
One of the biggest challenges with smart factories is dealing with massive amounts of data from connected equipment. "Data overload is definitely something you want to be watching out for. The amount of data you will be getting from your equipment is truly overwhelming if you aren't prepared for it," Peterson says.
AWNC operates some 2000 machines, each of them collecting tens of data points. The company has made a considerable investment to meet its current data needs and accommodate growing demands at least a year in the future. "We put in a huge amount of compute power, memory and storage capability in the operation because we knew we had to deal with large data volumes," he says. "We are absolutely seeing this with the MES system. We have millions of bytes of data every minute from our PLCs."
Sign Up for the Newsletter
The latest IoT news, insights & real-life use cases...delivered to your inbox
You May Also Like
---