7 IoT Adoption Insights from the Microsoft IoT Signals Report
7 IoT Adoption Insights from the Microsoft IoT Signals Report
A Microsoft report indicates IoT adoption is driving an "invisible revolution," according to an executive at the firm. Some challenges, however, remain.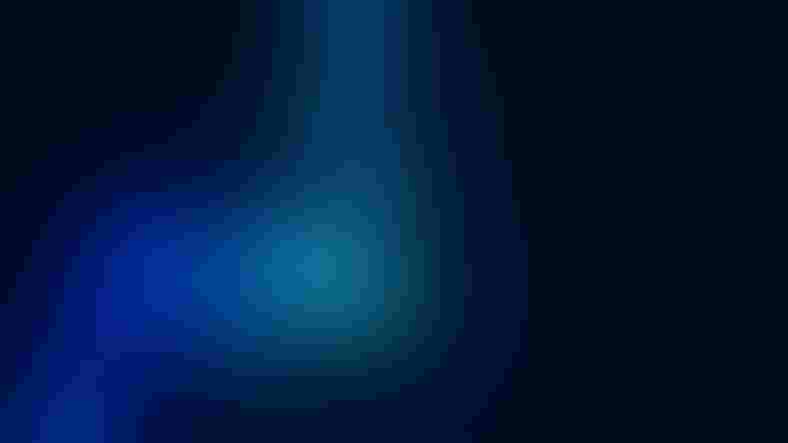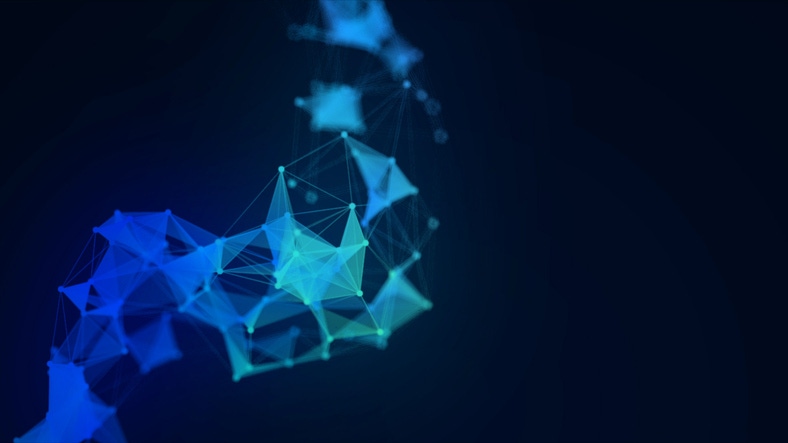 Digital Network
Getty Images
To get a sense of where we are now with IoT adoption, one can try to assimilate snippets of dozens of conversations, read an array of articles, listen to relevant webinars, and attend industry events. But achieving a comprehensive view can be elusive.
To get a holistic view of such a comprehensive and far-reaching technology, Microsoft enlisted the help of Hypothesis Group to identify more than 3,000 professionals with current involvement in IoT. Based in the U.S., U.K., France, China and Japan, the respondents in the IoT Signals report broadly indicate enthusiasm IoT. In all, 85% of the IoT decision-makers surveyed were either deploying or scaling the technology at their organization. The survey indicates that IoT is no passing fad for enterprises. A total of 94% of the respondents indicated their businesses planned to use the technology by the end of 2021.
Here are seven takeaways from the report and reflections on IoT adoption from an interview with Sam George, Microsoft's head of Azure IoT. 
1. IoT Is Helping Build a Distributed Computing Fabric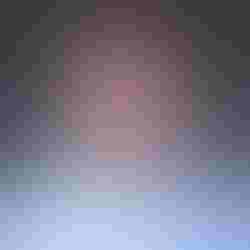 Ever hear a string of buzzwords such as cloud, edge, IoT, 5G, digital transformation and AI and notice the blurred lines between them? "It appears complicated when you think: 'Hey, there's a bunch of technologies that are used,'" George said. "But they're all interrelated." The convergence between technologies such as IoT, AI and edge computing begins to make it possible to think of the world as a giant computer, as Microsoft Chief Executive Satya Nadella explained. "When we build AI, we build it so that it can run in Azure or on the edge. It's much more useful when it can run anywhere because that's where the world's going. It's a distributed computing fabric." 
The Microsoft IoT Signals research showed that, for many organizations, IoT "is a gateway technology that helps with digital transformation," while also leading companies to consider deploying related technologies, whether 5G, cloud and edge computing or artificial intelligence. "So [IoT] winds up being, in many cases, the tip of the spear," George said.
2. IoT Projects with Clear Benefits Often Fade into the Background
The sizeable majority, 88%, of survey respondents with IoT experience view the technology as "critical to business success." 
But that doesn't mean such projects clearly telegraph their benefits to everyone they impact. George uses the term "invisible revolution" to characterize the situation. "When things work really well, people don't tend to notice. They notice when things stop working," he said. 
One example of this principle in action is IoT-enabled supermarket shelves that ensure they are stocked. Kroger teamed up with Microsoft to use cameras in conjunction with machine learning to make this scenario possible. 
IoT helps prevent toxins from getting into the food supply, George said, "because companies like Bühler are using IoT and edge computing to prevent food contamination." Microsoft partner Bühler developed a grain-sorting machine that uses cloud-based data analysis and UV light sensors to detect grains with aflatoxin, a carcinogenic fungus and remove them, so they do not enter the food supply.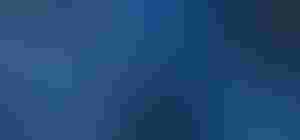 Another trend the research revealed is that companies deploying IoT projects often use them to optimize existing operations rather than to establish a new IoT-enabled business unit. "What we saw in the research was that, in many of these examples, it's not so much about a company starting a new business unit with something new that they report to the Street," George said. "It's often a matter of having existing operations, products, workers or customers, but not knowing a lot about those aspects," he added. "And then, as I use techniques like IoT, I find heaps of optimizations. I can find better ways to train my frontline employees and better ways to stay in touch with my customers."  
3. IoT Security Is Still a Chief Concern but Is Not Curbing Adoption
The IoT Signals report revealed 97% of IoT adopters have security concerns related to implementing the technology, but also concluded that security was not hindering adoption. "For Microsoft, that means we need to continue to provide easy-to-use, secure-by-default-type offerings, like Azure Sphere, Azure Security Center for IoT," George said. 
In terms of top IoT challenges, security came in at slot five, cited by 19% of respondents. The top problem was complexity/technical challenges, with 38%. Coming in at numbers two through four were lack of budget/staff resources (29%), lack of knowledge (29%) and inability to find the right IoT technology (28%).
Complicating matters somewhat is the fact that a significant number of companies are deploying IoT to improve physical security. In all, 44% of respondents cited safety and security as a reason for implementing the technology, making it the third most popular option behind operations optimization (56%) and employee productivity (47%), as Exhibit 5 from the Microsoft Signals report shows: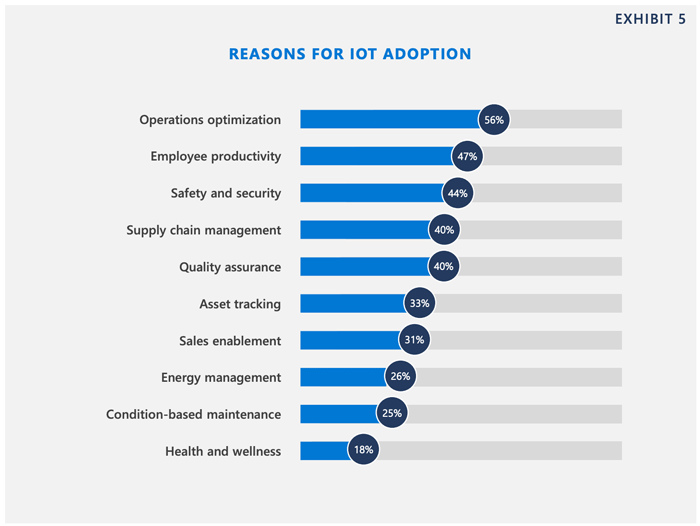 4. The Skills Gap Is a Central Challenge for IoT Projects 
The research indicates that nearly half (47%) of organizations with active IoT initiatives are grappling with a shortage of skilled workers. Almost two out of five IoT adopters are struggling with challenges related to the complexity of technical hurdles. "There's this worldwide skills gap," George said. 
Microsoft's approach to deal with this challenge is to invest heavily in simplifying deploying IoT projects, or, as George puts it, to "take the hard stuff out of IoT. Provide common solutions and accelerate it." He continued: "Make it so that all businesses, regardless of size, can take advantage of it."
"I can go and provision an IoT Central app in 15 seconds," George said. "I can customize it in a couple of hours. I can go to production the same day," George said. "We have a history of taking complicated technologies and democratizing them."
5. For Some, Proof-of-Concept Purgatory Is Still a Problem 
In 2017, Cisco sent shockwaves throughout the IoT landscape by declaring nearly three-quarters of IoT projects were failing. They arrived at that conclusion based on a survey indicating only 26% of organizations with an IoT initiative deemed them to be entirely successful. While the finding that IoT projects that are not 100% successful is arguably an extreme standard, that research underscored the reality that IoT initiatives frequently sound promising in the abstract but can be more difficult to deploy than anticipated. It also observed that 60% of IoT projects get stalled at the proof-of-concept stage, as Exhibit 13 in the report shows: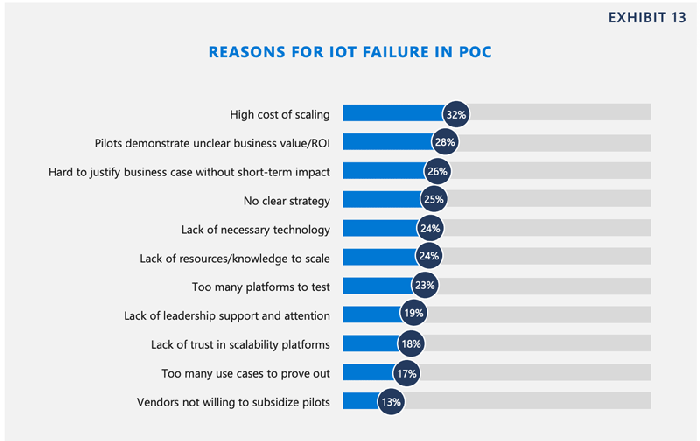 That same year, McKinsey research revealed fewer than 30% of IoT projects were beginning to scale. A year later, a McKinsey blog post described the situation with the term "pilot purgatory."
The Microsoft research indicates pilot purgatory is still a thing. In all, 30% of IoT projects fail in the proof-of-concept stage — "often because the implementation is expensive or bottom-line benefits are unclear," as the company explained in a press release describing the research.  
But that's not to say the problem is unique to IoT. For instance, a 2017 report indicated 85% of big data projects fail. Proof-of-concepts, by design, are intended to provide an opportunity for further trials and iteration. 
6. The IoT Landscape Is Becoming More Standardized
In the early days of the Internet of Things, almost every project, it seemed, was custom. The situation was similar to the internet itself in the 1990s. To set up a website, a webmaster might set up a server and write seemingly countless lines of HTML and JavaScript. The rise of tools and standardization helped steadily reduce those activities to the point that an individual can set up a simple website today in a matter of hours instead of days. 
Similarly, the IoT market is gradually shifting to become more standardized. "Part of what we're doing with our partners is getting all these solutions co-sell ready," George said. Microsoft has some 1,200 partner-created IoT technologies. "Those repeatable solutions don't have to be built from scratch. It means that a partner can come in and say: 'Look, I'm 90% done, I'm going to do this last 10% for you, and it makes it go faster.'" 
George said that four to five years ago, many IoT projects were still predominantly custom affairs. "Now, you're starting to see sets and classes of solutions that can be applied to standard use cases that are becoming more and more common," he said. "And that makes it easier for a partner to address a bigger part of the market. It makes it easier for customers to get something that just works faster," he said. 
7. Discipline Is Coming to IoT
A few years ago, there were a plethora of ill-conceived IoT projects that offered features no one really wanted. There were seemingly countless examples of technologies looking for a problem to solve. "Four years ago, you saw businesses rush in and prototyping a bunch of things and seeing what would happen," George said. But as the technology became mainstream, there has been a sort of sea change where the bulk of organizations with IoT projects have "rigorous business standards," George explained. "Now it's like: 'Okay, I have a business process. I have inefficiencies in it. I'm going to use sensors to tell me what those inefficiencies are. And then I'm going to improve it.'" 
Incidentally, BCG Group, which provided a series of guidelines to support the IoT Signals report, cited as its first key for success: "Successful IoT projects start with a clear understanding of the business problems to be addressed, the investment needed and the return on investment that is expected."
George said he aims to continually reinforce this principle in his meetings with executives at Microsoft customers. "They all want to hear about IoT," he said. "And the first thing I usually say is: 'I'd like to learn about your business first. Tell me about some of your core business processes and what those look like.' And then I say: 'Okay, what do you know about those processes? And at what frequency?'" From there, potential IoT use cases become apparent. "Connectivity is one of the downstream things you choose. It's not what you lead with," George said. "You lead with the business case."
Sign Up for the Newsletter
The latest IoT news, insights & real-life use cases...delivered to your inbox
You May Also Like
---