Hannover Messe Provides Preview of Industrial AR's Promise
Hannover Messe Provides Preview of Industrial AR's Promise
Augmented reality was a star of Hannover Messe. But adoption of industrial AR will likely be first limited to defined use cases.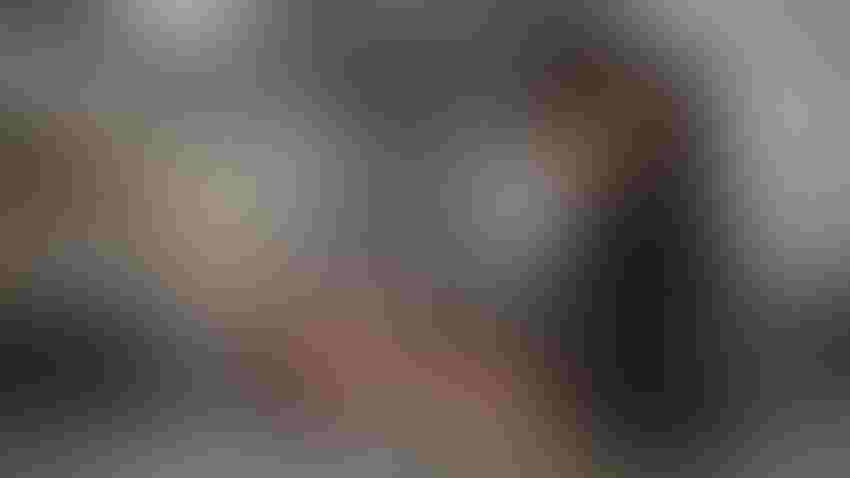 Trying on Microsoft's $3,500 Hololens 2 at the sprawling Hannover Messe trade fair was a bit like stepping into the future. The device is easy enough to put on, going up and over the head, a ratched dial in the back provides a snug fit. After a short calibration sequence, it felt like I was gradually entering a parallel world. I could seemingly see the inside the wastewater blower that Microsoft partner PTC  featured in its booth. One of them glowed red, indicating it was worn and needed replacement. The light headset then displayed a prompt asking if I wanted to change out the gear. In my field of vision, I could observe which parts needed to be removed to remove and replace the gear. The virtual parts glided one after the other from the machine, at which point I could reach down and remove the virtual gear. The Hololens 2 can capture hand movements to support gesture control, while also enabling voice commands.
The Hololens 2, which made its debut to much fanfare at MWC in late February, is available later this year. And the long line of people waiting patiently at an industrial trade show serves makes it easy to imagine that augmented reality — or its more spatially advanced cousin, mixed reality — will become a part of the factory of the future. The potential applications of industrial AR are considerable — from enabling technicians to gain the ability to see information in context in the actual environment rather than on a fleet screen or sheet of paper. AR headsets are valuable for training as well, and can partially automate the creation of SOPs, standard-operating-procedure guides. Proof-of-concept projects involving the Hololens 2, the Google Glass Enterprise Edition headset and other similar headsets have reported substantial improvements in production time and reductions in error rates in assembly operations or maintenance tasks.
Last year, Microsoft won a $480 million Hololens deal with the U.S. Army that could have the military branch ordering 100,000 devices for training and combat applications.
Still, the concept of legions of industrial workers donning AR headsets has not gained universal appeal. Sastry Malladi, chief technology officer of FogHorn, said the smartphone will likely have more innate appeal in industrial environments for the time being. There's little-to-no learning curve in using smartphones, which can also do double-duty as edge processing devices, Malladi said. And smartphones are straightforward to procure and have a price tag often measured in the hundreds rather than thousands of dollars. Smartphones also can typically have enough battery life to enable a worker to get through a full shift on a single charge. FogHorn is working with Honeywell to offer machine learning capabilities on ruggedized smartphones.
[Internet of Things World is where industrial enterprises find IoT innovation. Book your conference pass and save $350, get a free expo pass or see the IIoT speakers at the event.]
As the game Pokémon Go showed in 2016, smartphones and tablets offer significant AR capabilities but require a user to hold the device in one or both hands. Nate Fender, chief operating officer from the augmented reality startup Ario is taking a multimodal approach to AR, supporting smartphones and tablets as well as a dedicated AR headset. By focusing solely on a no-code platform, the startup can avoid pegging itself to a single hardware platform, while also offering support for any platform that may gain favor, including the HoloLens 2, which, at present, is available for preorder in a select number of countries and is awaiting authorization from FCC in the United States and compliance with Directive 2014/53/EU in Europe.
One of the biggest questions, in terms of industrial AR headsets' regulatory requirements, as well as their adoption in industrial environments, is their batteries. Microsoft claims the Hololens 2 will withstand two to three hours of active use. The enterprise version of Google Glass reportedly will last eight hours, but that product is not officially available for sale, and thus has no formal published specs.
Another question regarding the lithium-ion batteries used in many AR headsets is their potential to explode while pressed against a user's head. While the likelihood of that happening may be remote, it could be a real risk in a number of industrial environments. Extreme temperatures can increase the likelihood of an explosion or electrolyte leakage as can stress or deformation. Those factors make donning a hard hat with an integrated lithium-battery-powered AR-headset seem like a questionable way of protecting one's head in an environment such as a steel mill, as the use in an explosive atmosphere or flammable environment could prove problematic for the lithium-ion battery contained within the headset. Exposing lithium-ion batteries to water can also cause problems.
The regulatory notice for the Google Glass Enterprise Edition advices users to send units with drained batteries back to the company for service rather than have workers swap out the batteries themselves. This version of the headset is certified to IEC 60950-1, which is a consumer standard rather than the industrial standard IEC 60079.
It's telling that the AR company DAQRI has transitioned its focus from a smart helmet concept with two lithium batteries in favor of smart glasses wired to a rechargeable compute pack, that can be clipped onto clothing.  
The DAQRI smart glasses are now available at a price tag of $7,548, which includes access to developer tools and access to the company's software. The Recon Jet Pro was designed to support two to five hours of operation on a charge and features a rugged build.
The company Vuzix offers smart glasses for north of $1,000. It has targeted use cases such as field service, logistics, remote support and manufacturing. Intel acquired the AR startup Recon, which is also targeted at the enterprise market.
Other players in the AR market, such as Atheer, Upskill and Ario are taking a software-first approach.
Ultimately, industrial AR could be a paradigm-shifting technology, but its capabilities will most likely be limited to defined use cases such as user training, field service and logistics for the foreseeable future. The fact that a number of vendors, notably PTC's Vuforia division, are working to streamline the creation of AR software while supporting smartphones and tablets as well as dedicated headsets, bodes well for its long-term prospects. A 2018 Gartner study reported that business-to-business applications of the technology was "gain[ing] traction as more enterprises are discovering and seeing the value of using AR in their workflow." The firm also added: "Advancements in [head mounted display] hardware will provide more compelling hands-free use cases for AR, as well."
Products such as the Hololens 2 broadly point to a future in which training materials are not flat pages — either in books or on screens — but are in 3D. In configured AR environments, users have X-ray vision while seeing real-time functional information superimposed in one's field of view. While visionary industrial companies will be swayed by its potential, a wide chasm could open up between companies given free reign to explore the potential of AR headsets and more pragmatic firms looking for a short-term ROI. Time will tell whether the AR headset becomes a staple technology for a defined number of industrial AR use cases. Until then, there is always the smartphone.
Sign Up for the Newsletter
The latest IoT news, insights & real-life use cases...delivered to your inbox
You May Also Like
---