Health Care Edge Architecture Poised to Enhance Digital Patient Experience
Health Care Edge Architecture Poised to Enhance Digital Patient Experience
Health care organizations are enlisting edge computing architecture to bring information closer to patients and to digitize and improve care.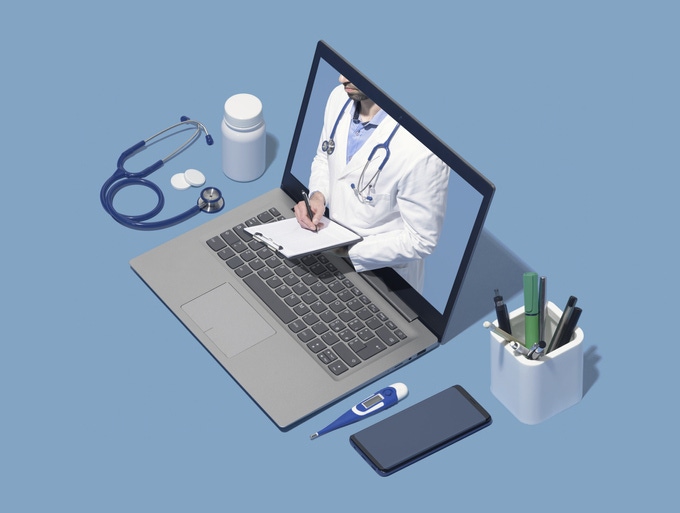 Professional doctor in a laptop giving a medical consultation online, telemedicine and healthcare concept
Getty Images
Key takeaways from this article include the following:
Health care organizations have experienced an explosion of data, set against stringent security requirements for storing, handling and managing that data.

Edge computing architecture is enabling health care organizations to digitize care and better secure patient data.

Ultimately, health care edge architecture and connected things will work in tandem to improve patient care.
Increasingly, health care organizations have recognized that edge architecture may fill gaps left by traditional data centers and cloud computing architecture.
While cloud computing offers compute resources and flexibility for large data volumes, multitenant, centralized clouds bring data latency and data privacy problems. For industries such as health care, the Health Insurance Portability and Accountability Act (HIPAA) and other regulatory requirements have prevented widespread use of cloud architecture.
"Everyone wants to go to a centralized cloud like AWS [Amazon Web Services] or Azure," said Travis Shanahan, systems architect at BevelCloud. "It's very difficult to jump through all the hoops when the majority of the machines aren't connected. So we embarked on what we call an 'edge cloud.'" Shanahan and his team are building a health care edge architecture, starting with a children's hospital at Stanford University in California.
Traditional data centers can't solve health care's problem either. On-premises infrastructure can be costly to maintain to keep up with new data requirements. So too, patient data may be at risk to cyberattacks as well as malicious or careless insider behavior.
Sharing data, such as imaging files, with experts outside of a hospital network becomes a difficult task. Often this is reduced to burning the imaging data on to CD-ROMs and physically shipping them to another hospital or clinic for review.
According to Gartner, 91% of data is created and processed in centralized data centers. But by 2022, about 75% of all data will need analysis and action to take place at the edge.
Further, there has been an explosion in health care data — a 900% increase in just three years. As a result, many health care providers have turned to edge computing to solve their challenges caused by the proliferation of devices and the latency in sending data to a cloud and back. Edge computing architecture reduces the need to use a centralized cloud and can instead exploit connectivity near the data source, improving speed and latency.
Delivering New Digital Patient Experiences with Edge Architecture
Jeffrey Thomas, chief technology officer at Sentara Healthcare — a 12-hospital system in Virginia and North Carolina — and his IT team wanted to build a customer-focused system and provide greater digital capability for patients. So, they had to think beyond traditional data centers and cloud to enable their new digital needs.
Even prior to the emergence of COVID-19 and the ramped-up need for digital health options, the team worked on an app with which patients can schedule appointments, receive health alerts such as a colonoscopy screening and other capabilities.
As Thomas noted, the possibilities for expanding proactive care have blossomed as a result of the COVID-19 crisis.
"We're building a consumer-driven health model and providing appropriate information to consumers to [enable them] take better care of themselves," Thomas said.
That's good news for a health system such as Sentara, which has experienced ballooning digital demand. Between 2019 and 2020, telehealth visits experienced a 10,076% increase, and Sentara's cloud-to-edge infrastructure was able to meet that demand. While telehealth visits have decreased since earlier in 2020, Thomas and others view the spike as a prelude of a new digital frontier for health care that edge computing can aid.
"We were building out the ability to do a digital front door by bringing the data closer to the end user," Thomas said. "That's where we look to hybrid cloud and near-cloud capabilities, to expose that data securely and to have secure interactions with individuals and store it for an appropriate amount of time," he said.
For Thomas  and other health care providers, it's now possible to use connected devices such as heart rate and glucose monitors to provide critical patient information in real time that can avert a health crisis — but only if IT systems are up to the task.
"We're talking about wearable devices, monitoring devices in home to better patient experience and move them from a hospital, for example, to home," Thomas said.
Within four years, 50.2 million patients will be remotely monitored, with 25.2 million using connected home medical monitoring devices and 25 million using personal health devices, according to a report by Berg Insight.
Another key benefit, said Sentara's Thomas, is the use of telehealth to reach underserved rural communities.
Shanahan and his team — building an edge cloud for underfunded children's hospitals in California and elsewhere — saw an opportunity to connect myriad connected health care machines.
each machine, When connected at the edge, having data useful to many parties including the asset metadata, the environmental and location tracking, the machine's system performance, and the data the machine produces such as an MRI scan.
Shanahan said that because of the volume and security requirements of health care equipment, the edge offers an opportunity that cloud architecture can't accommodate.
"There's about a million health care machines in children's hospitals," Shanahan said. "We think that if we connect them into the edge cloud securely and privately and maintain everything in the edge, we could build some interesting applications there that can't exist in today's health care systems."
Shanahan said that the "edge cloud" enables the hospital to monitor machines, track them and manage hospital costs and operations more efficiently.
"They can monitor to prevent equipment failure," Shanahan said. "These hospitals are purchasing equipment all the time and often have no idea how often they are utilized or where they are in the hospital." Further, actionable data is driving cloud-to-edge architecture in health care. The growing need for AI machine learning and actionable analytics in real time — to sift through images to achieve a diagnosis, to understand an equipment issue before the machine fails — requires additional compute at the edge. According to a 2019 Forrester survey, 69% of respondents said that prioritizing edge IoT for analytics would improve outcomes.
Edge Architecture Aids Health Care Security Requirements
For Sentara's Thomas, improving digital patient experience via a hybrid architecture using a centralized cloud and "near cloud" architecture could also offer security benefits over an only centralized cloud architecture.
Sentara's team enlisted software-defined networking, network automation and security-by-design principles. Finally, Thomas said, a DevSecOps approach is critical to bring teams together that were formerly engineering in silos.
"It's about changing our mindset from a siloed, traditional IT model to a SecDevOps model," Thomas said, "where your security people don't engineer separate from your server, network and compliance people. When they have to architect a framework together, it means all of our interactions change."
Ultimately, Thomas said, using connected devices in a health care edge architecture to deliver at-home care, better services in rural settings or to provide digital services at hospitals will benefit patients.
Digitizing Patient Health Experiences to Improve Care
Through connected devices and edge architecture, health care organizations have the opportunity to enhance care and reach previously underserved communities and patients.
Consider rural settings, which are often spread out, with facilities far from many patients, few medical personnel, let alone specialists.
"Sentara has a bunch of rural hospitals: bring in-room telehealth, which expands our capacity, to see people in hospitals that we previously couldn't get to. Think about all the services we have that required you to come to a physical location that can now be provided at home," he said. Thomas noted that wearables and other connected devices will be essential here, enabling patient diagnostics to be gathered and conveyed to medical practitioners. Ultimately, Thomas said, the ability to use edge-cloud architecture and connected things in health care is about better patient experience.
"We can reduce cost and provide more services," Thomas said. "We are getting people to the services they need and closing those care gaps for people."
View all our IoT World 2020 coverage here >>> 
Sign Up for the Newsletter
The latest IoT news, insights & real-life use cases...delivered to your inbox
You May Also Like
---