U.S. Border Patrol is Going to the (Robot) Dogs
U.S. Border Patrol is Going to the (Robot) Dogs
The agency is experimenting with four-legged drones to help supplement its human personnel duties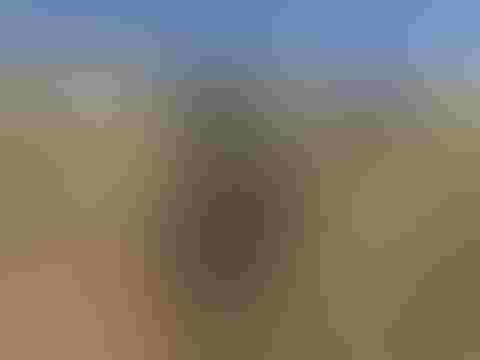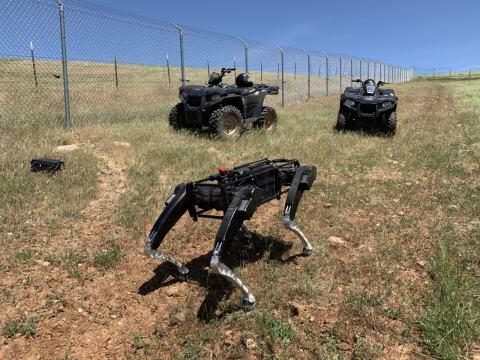 A robot dog operating alongside ATVs in the southwest U.S.
Ghost Robotics
Faced with almost 2,000 miles of oftentimes inhospitable terrain to monitor, the U.S. Customs and Border Protection has long been a proponent of using advanced technology to replace boots on the ground when possible.
Most recently, the agency has been experimenting with four-legged drones, or Automated Ground Surveillance Vehicles (AGSV) — read: robot dogs — designed by a Philadelphia firm as a way to supplement the duties of its human personnel. 
The program is being run out of the Department of Homeland Security's Science and Technology Directorate (S&T). For the last two and a half years, S&T has been working with Ghost Robotics to re-engineer the company's existing platform for border duty. In a way, the 100-pound robot dog was almost bred for the type of fieldwork the CPB has in mind.
"It is a rugged, quadruped robot," Ghost Robotics Chief Product Officer Gavin Kenneally said in a DHS blog post. "It traverses all types of natural terrain, including sand, rocks and hills, as well as human-built environments, like stairs. That's why you want legs and not tracks."
The first phase of the collaboration was the "initial payload integration" in which the video, radio and sensor packages the unit would carry in the field are mounted onto the dog for testing at a facility in Virginia. The team assessed the ease and integration of the hardware with the unit, which CPB intends to operate via laptop or handheld remote.
The robot dog's payload capabilities are designed with an open system that facilitates the integration of different cameras (360-degree, thermal, night vision, zoom) and sensors (chemical, biological, radiological, nuclear). Connections to the operator will be by standard frequencies, such as radio, Wi-Fi, GPS or other means.
After the initial tests, the prototype was taken to El Paso, Texas, for advanced testing and evaluation. These use-case exercises involved putting the robot dogs in realistic border scenarios with high heat, low oxygen, harsh environments and tight spaces, all of which are particularly hazardous for CPB personnel. Other scenarios, such as field maintenance and repair and sentry duty, were also tested.
In the end, Ghost Robotics gained valuable information and will put that knowledge to work refining the package for possible deployment in the future.
"When industry develops a prototype, we (along with our partners in the field) evaluate the new technology and give feedback to the developer. That way, the next iteration of the tech accomplishes what we need it to do — and thus fills the capability gap we are targeting," S&T program manager Brenda Long explained.
Sign Up for the Newsletter
The latest IoT news, insights & real-life use cases...delivered to your inbox
You May Also Like
---