Four-Drone Swarm Produces Real-Time 3D Battlefield Maps
Four-Drone Swarm Produces Real-Time 3D Battlefield Maps
Reveal Technology and Teal Drones demonstrated the system to the U.S. Army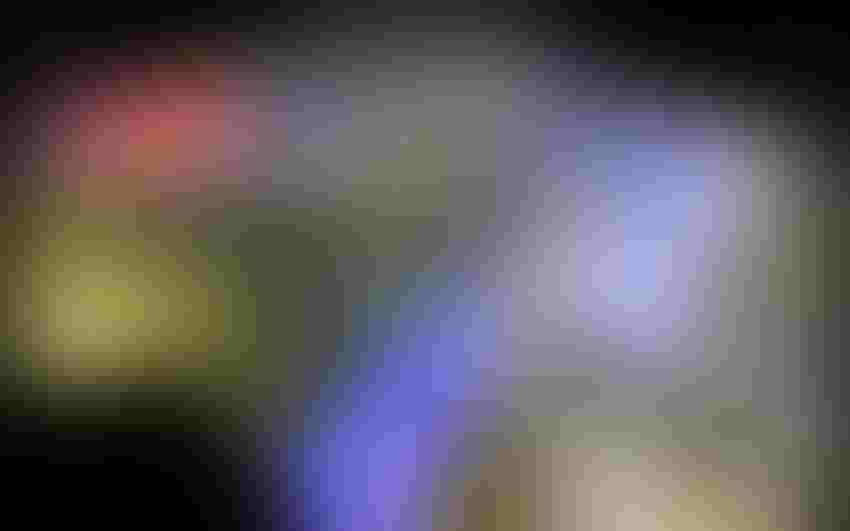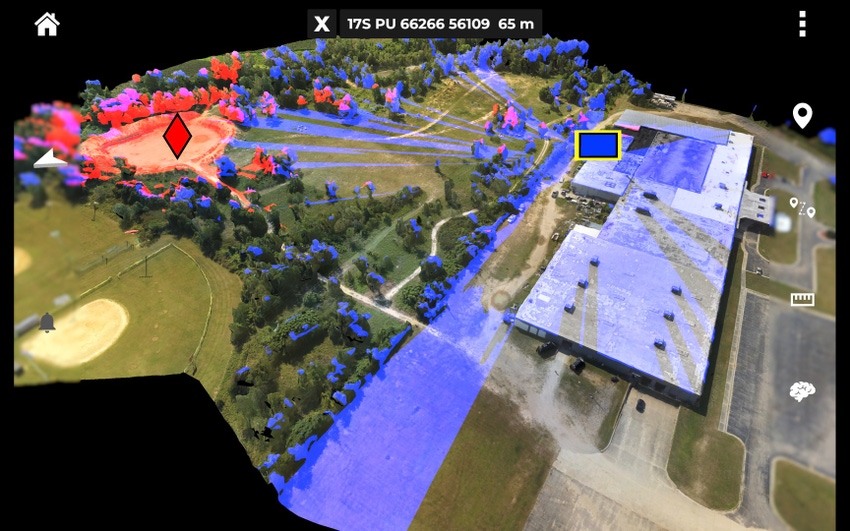 Farsight model created from multi-ship Golden Eagle flight showing enemy (red) and friendly (blue) positions and respective line of sight. Photo taken during demonstration to members of the U.S. Army Special Operations Command near Fort Bragg.
Teal Drones
Defense-software company Reveal Technology and military-drone maker Teal Drones have joined forces to combine Reveal's Farsight mapping software and Teal's new 4-Ship drone swarm to produce 3D battlefield maps in real time.
The 4-Ship platform allows a single operator to control up to four of Teal's Golden Eagle drones to provide 360-degree surveillance of a target. Farsight, in turn, uses the system's four video feeds to produce detailed 3D maps that are immediately available in the field. The system was recently demonstrated to the U.S. Army Special Operations Command at Fort Bragg, N.C.
"A primary role of Teal Drones – which is one of only a handful of drone companies approved to provide equipment to the U.S. military – is to provide a superior airframe upon which others build apps that allow the military to better meet their objectives, including warfighter safety mitigation," said Jeff Thompson, CEO of Teal Drones' publicly traded parent company, Red Cat Holdings. "This integration of Reveal's Farsight software with Teal's 4-Ship product is one of the most important apps that has been developed for the Golden Eagle so far. We are excited about our partnership with Reveal and look forward to even more groundbreaking developments in the future."
Farsight allows users to overlay the 3D maps with a variety of features, including line-of-sight analysis showing the least-visible route from one point to another, terrain analysis and graphing and an AI-generated "best route" based on elevation and terrain analysis and line-of-sight data. Farsight also provides a vertical-measurement tool, which can determine the height of buildings and other structures in a zone of operation, and a helicopter-landing-zone survey, which shows the best and safest spots to land.
"What sets Teal and Red Cat apart – and an important reason why we are excited to be working with them – is their demonstrated ability to build and ship product," Reveal COO Andrew Dixon said. "Because Teal has a dedicated manufacturing facility in the U.S., they can make good on their promise to deliver product to the military on-time, which is an enormous advantage in today's drone industry, and means that our technology is much more likely to get to users on the front lines when they need it."
Farsight allows military teams to gather and analyze intelligence on the ground instead of relying on overtasked and often separate intelligence operations. The software uses computer vision, AI and edge computing and does not require a network connection, which reduces a team's electronic signature, making it less visible to the enemy, the companies said.
"Farsight already significantly sped up the rate at which aerial imagery could be used to help teams more safely and effectively carry out their missions," Dixon said. "Simultaneously gathering data from multiple drones, such as using Teal's 4-Ship multi-drone system, compounds this for significant intelligence advantages on the battlefield."
Sign Up for the Newsletter
The latest IoT news, insights & real-life use cases...delivered to your inbox
You May Also Like
---