Robotic Falcon Prevents Airplane, Bird Collisions
Robotic Falcon Prevents Airplane, Bird Collisions
The robotic bird was designed to scare birds away from airports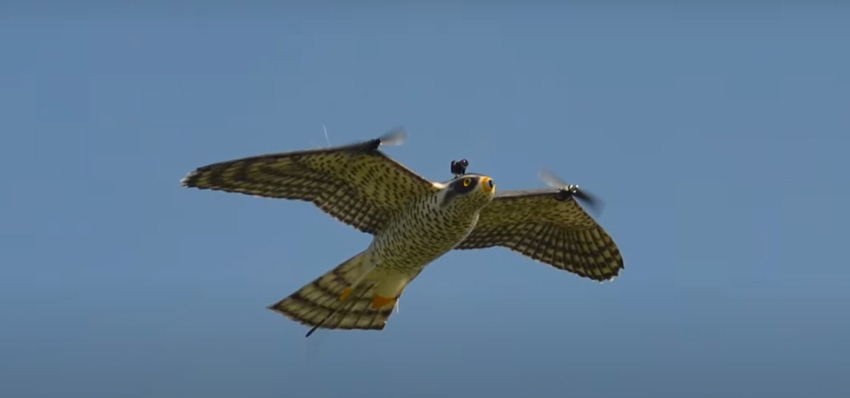 Birds and aircraft have been sharing the skies for more than a century, and while both have been able to co-exist relatively harmoniously when the two do collide it leads to bird death, aircraft damage and sometimes even aircraft engine failure. As such, finding a method of deterring flocks of birds from the flight path of a plane could help save on damages, delays and even lives.
A team of researchers from the University of Groningen in the Netherlands, the University of Tuscia, Roflight, Lemselobrink and the Royal Netherlands Air Force has come up with a possible solution to this problem. The team designed, built and tested a prototype robot in the form of a peregrine falcon to deter birds around airports.
"Collisions between birds and airplanes…[costs] the international civil aviation industry more than $1.4 billion annually," the team wrote in the study. "There is an urgent need for new deterrence methods."
The remote-controlled bird, dubbed RobotFalcon, has a wingspan of just more than 27 inches, is made of fiberglass and polypropylene and is powered by an internal engine. It also features a camera on its head to give operators a first-person view while controlling it.
Drones are currently used to scare birds away for this purpose, sometimes playing sounds of birds in distress to deter flocks. RobotFalcon takes this idea to a different level, adding the features and movements of the bird of prey to create a more realistic threat.
During a series of field tests, RobotFalcon scared away entire flocks of birds within five minutes of arrival, with 50% of the sites cleared within 70 seconds. This response was consistently seen over the course of three months, despite the same flock of birds having seen the robotic falcon several times. The results were also shown to be more effective than the use of drones, which only cleared 80% of birds in an area.
"We conclude that the RobotFalcon is a practical and ethical solution to drive away bird flocks with all advantages of live predators but without their limitations," the team wrote.
Some issues do, however, remain, with the robotic bird only capable of taking to the skies in good weather and requiring trained pilots for operation. 
Sign Up for the Newsletter
The latest IoT news, insights & real-life use cases...delivered to your inbox
You May Also Like
---