Hannover Messe 2022: Bosch, Boston Dynamics Robotics Showcased
Hannover Messe 2022: Bosch, Boston Dynamics Robotics Showcased
Annual event highlights speakers and products to harness digital innovations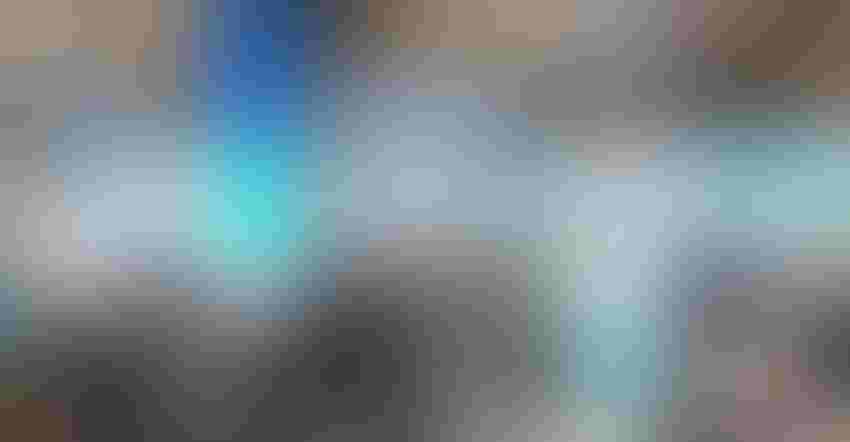 Speakers at this year's Hannover Messe will be looking at the rise of Industry 4.0 and how the use of robotics and IoT solutions such as digital twins is working to improve industry adaptability, cutting down on the use of resources while offering cost and energy savings in the process. 
Here's a look at some of the technologies in store for visitors at this year's show.
Boston Dynamics Robot Dog
The American engineering group plans to showcase its Spot robot, a quadruped mobile bot that can navigate uneven terrain and is intended for deployment in industrial settings, allowing for safer remote monitoring and maintenance. The robot was recently outfitted with 5G capabilities and enhanced vision that allows it to map its surroundings in 3D, offering a more user-friendly experience and increasing Spot's autonomy.
Bosch Robotics
Bosch Rexroth plans to showcase its robotic arm portfolio, with lightweight elbow-arm devices highlighting grasping and reaching capabilities that vary in reach from 2.75 feet to 3 feet, and can carry between 22 pounds and 74 pounds. According to the group, the tech can be deployed in hydraulics, electric drive and control technology, gear technology and linear motion and assembly technology.
Digital Manufacturing Tools
A host of devices and solutions to digitize industrial automation and the smart building industry are expected to be shown by Analog Devices, including ethernet products and IO-Link technologies that combine sensing, edge processing and ethernet connectivity to drive digitization in "factory, process and building enterprises." Products are expected to  include ADI EagleEye, which combines smoke and vision sensors, software IO and ethernet connectivity to bring occupancy monitoring and space optimization to business managers, as well as its ADI 3D Time of Flight bot that uses optical pulses to capture depth information.
PTC
Microsoft partner PTC is expected to highlight its software products, harnessed either via the cloud or as a SaaS platform to help companies progress product design in a range of industries including autonomous vehicles, agricultural tech and medical devices.
Artificial Muscles for Robot Vacuum Manipulators
These robotic arms, developed by a team of researchers at Saarland University, have been designed to grasp and handle objects with complex and varied shapes, adapting their grip as it encounters changes in shape and featuring suction cups that help them firmly hold items. Intended for deployment in industrial settings, the arms can be used in assembly lines to handle heavy objects such as car body parts. While the technology is still in the prototype stage, there is potential for it to progress to make autonomous readjustments using machine learning algorithms. 
Soft-Robotic Textiles
Startup MotorSkins is bringing its soft-robotic textiles to the exhibition floor of Hannover, offering robotics to aid muscle movement without batteries or motors. The first product in its pipeline is a compression garment for legs, featuring hydraulic circuits sealed within multilayer textiles which are powered by a user's movement rather than any electrical power.  
Digital Transformation for Energy Management
Schneider Electric plans to feature several innovations, all designed to accelerate the path to net-zero carbon dioxide emissions for customers. The latest products include EcoStruxure Machine Expert Twin; a scalable digital twin software solution for original equipment manufacturers (OEMs) to create digital models of real machines to improve efficiency and sustainability. Schneider Electric plans to bring its EcoStruxure Automation Expert 22.0 to the exhibition floor; the latest iteration of its software-centric industrial automation system, reportedly the first solution of its kind. 
Inspection Service Drones
Portuguese engineering group ISQ will be presenting its Unmanned Aerial Vehicle (UAV) portfolio, a series of remotely-operated drones with cameras and sensor technology that can be used to assess both large structures and small spaces. These provide surveying capabilities without requiring manual inspections, and intended applications include maintenance and monitoring services at solar array sites. ISQ has also fitted the drones with an algorithm to identify issues and anomalies with solar panels and perform aerial thermographic inspection. 
Autonomous off-Road Vehicles
The Robotics Research Lab from the Technical University of Kaiserslautern plans to detail the results of research into the automation of construction and agricultural vehicles, including semi-autonomous excavators, adaptive off-road vehicles and tandem rollers. The research includes the application of various sensors and evaluation algorithms for the detection and recognition of the environment, but also alternative control approaches and computer architectures. 
Sensor Tech for Reducing Marine Waste
Autonomous cleaning robot WasteShark is expected to be on display. The marine bot uses lidar sensor technology to sense and avoid potential obstacles in its path while collecting and filtering floating debris to streamline the marine-maintenance process. The WasteShark can be fitted with sensors to gather real-time data on variables including temperature, depth, dissolved oxygen, turbidity, pH, nitrogen and toxic algae levels. This year's event is focused on digitalization and sustainability, showcasing energy-efficient technologies to enable climate-neutral and sustainable value creation. Event exhibitors  combine "digitalization, artificial intelligence, automation and sustainable energy concepts to develop solutions to the global challenges of climate change."
Sign Up for the Newsletter
The latest IoT news, insights & real-life use cases...delivered to your inbox
You May Also Like
---